Business Guid for Corn Flour Milling Machine
Have you thought of starting a corn flour milling machine business? Corn is one of the products with a very high utilization ratio for it is highly nutritious, it has constantly been referred to as the future grain. Corn has a comprehensive utility ratio making it one of the most profitable projects in the milling industry.
Corn flour milling machine business has in the recent past gained overwhelming attention. This is worth consideration for impending development. What you need is a corn flour milling machine business plan. It is also worth noting that this is a business which has gained much reputation over the recent past.
This article gives you an insightful coverage of corn flour milling machine business. It contains the basic information you might be interested in knowing. In this article we will focus on ideal guides on how to locate your business, ideal venture needs, what you would probably expect among others.
Business location
Similar to any other business venture, choosing the location of your business is an important aspect worth considering. The location of the corn milling machine needs to conform to the zoning legalities of that place. You will need to consider your target clients. The milled produce targets the pet producers, food makers among other end users of the product, the corn milling machine needs to be located in the most proximate site where corn farmers, suppliers, traders and end users are. This will earn you an easy task as you will not get exploited by the transportation cost.
Venture needs of a corn flour milling machine
For the complex corn flour milling, you will have to provide facilities for storage, sales offices, drying space, exhibits and display centers. In simple terms, it cost high. These will mean that you need to have enough money to fund day to day operations, paying out employees until and upon when it starts turning a profit.
The corn milling process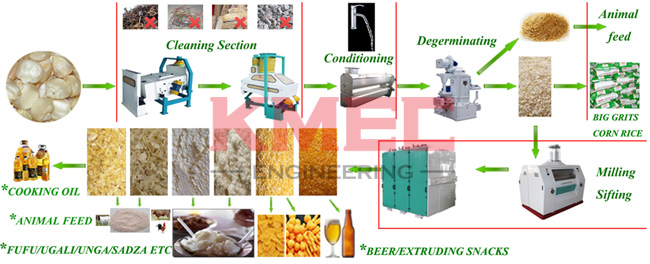 Generally a dry corn milling process would either involve milling the corn that basically involves removing little hull and germ, tempering with the corns moisture or cooking the corn in lime. The products of this milling are grits, meals and flour. Approximately 60% of this becomes the prime products whereas 30% becomes bran products and hominy feeds. Milled corn is used to produce a variety of products depending on its quality. Products of milled corn include snack foods, brewer grits, corn bread, breakfast cereals, corn flakes, corn cones, bakery mixes, corn bread and coatings.
Get In Touch
We receive enquiries in
English, Español (Spanish), Русский язык (Russian), Français (French) and العربية (Arabic)
. Our professional team will reply to you within one business day. Please feel FREE to contact us!