100TPD Soybean Protein Isolate Production Plant Built in Ethiopia
Project Name:100TPD soybean protein isolate production Processing Plant in Ethiopia
Raw Materials: soybean
Purpose: Clients invest in large soybean protein isolate businesses in Ethiopia to open up the Ethiopian market in the soy protein business.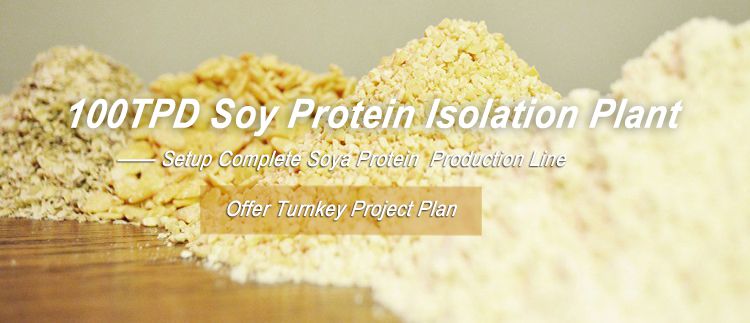 100TPD Soybean Protein Isolate Production Processing Plant in Ethiopia
Recently, a customer told us that they have built a complete 100TPD soy protein isolate production line from ABC Machinery and gradually gained benefits. This customer plans to establish a large commercial soy protein processing plant project to open up the Ethiopian market in the soy protein business. ABC Machinery provided him with a factory business plan and complete soy isolates protein unit. If you want to know more about setting up soy protein isolate, please feel free to contact us!

100TPD Soy Protein Isolate Production Line Project Display
Technology & Processing of Soybean Protein Isolate Production
1. Cleaning Part(Selection)
Screening to remove iron impurities, large impurities, stalks, and stones; selecting and separating adzuki beans.
The low-denaturation drying tower and fluidized bed are used for rapid drying, which can not only ensure the peeling rate, increase the protein content, but also ensure the invariance of soybean protein.
Use a dehulling machine and a kernel separating screen to remove the skin of soybeans to increase the protein content of soybean meal.
Improve the plasticity of soybean raw materials, make the embryo rolled by the embryo rolling machine thin and not broken, thereby improving the leaching effect.
The hydraulic compact roll billet mill is used to better destroy the cell structure of the oil to ensure that the rolled billet is thin and uniform, tough and small in powder.
The hydraulic compact roll billet mill is recognized as the main piece of equipment in soybean separating protein processing plants. Its grinding effect directly affects the economic and technical indicators of the plant and ultimately determines the economic efficiency of the soybean protein isolate plant. Our machines are exported to India, Kazakhstan, Tadzhikistan, Sri Lanka, Indonesia, Saudi Arabia, and other countries at the most favorable price.If you are interested in our soy protein isolate processing equipment or have any questions, Please click the button below to get a free quote!

ABC Machinery has strict quality control procedures, scientific business management and an efficient logistics operation system, providing a solid guarantee that customers can obtain stable, safe and high-quality food additives.
Applications of Soya Protein Isolate
100TPD Soybeans Pretreatment Factory Flow Chart

Product Specifications for Soybean Protein Isolates

| Product name | Source | Product Specification | Product Properties |
| --- | --- | --- | --- |
| Soybean protein isolate | A full-value protein produced from low-temperature desolvable soybean meal | 95% | Light yellow powder |
The addition of soybean isolate to higher grade meat products not only improves the texture and increases the flavour of the meat product, but also increases the protein content and fortifies the vitamins. Due to its high functionality, a dosage of between 2 and 5% can play a role in water retention, fat retention, preventing meat juices from separating, improving quality and taste. By injecting the isolated protein injection into the meat block like ham and then treating the meat block, the ham ground rate can be increased by 20%. The addition of soy isolated protein can make the structure of the product more perfect, and soy isolated protein can be added at the same time as the company's vegetarian meat powder. A more scientific approach to nutrition.
Use soy isolate in place of milk powder, non-dairy beverages and in all forms of milk products. It is a nutritious, complete and cholesterol-free alternative to milk. Soy protein isolate is used in the production of ice cream instead of skimmed milk powder to improve the emulsification properties of ice cream, delay lactose crystallization and prevent the phenomenon of "gritting".
When producing bread, adding up to 5% of isolated protein can increase the volume of the bread, improve the color of the crust and extend the shelf life; when processing noodles, adding 2-3% of isolated protein can reduce the rate of breakage after cooking and increase the rate of noodles, and the noodles have a good color and taste similar to strong flour noodles.
Soybean protein isolate can also be used in beverages, nutritional foods, fermented foods, and other food industries to improve food quality, increase nutrition, lower serum cholesterol, and prevent heart and cerebrovascular diseases. As a result, an increasing number of investors are looking at the soy protein isolate business. And before buying soy protein isolate is required to develop a detailed business plan, select high-quality equipment, produce plant design and so on.
Get In Touch
We receive enquiries in
English, Español (Spanish), Русский язык (Russian), Français (French) and العربية (Arabic)
. Our professional team will reply to you within one business day. Please feel FREE to contact us!