Corn Planting Area in America
The main corn producing areas are southwest of the Great Lakes, the heartland of America (heart land region), including Illinois, Iowa, Indiana, South Dakota and eastern Nebraska, Kentucky and western Ohio, northern Missouri.
Low produces the most corn, followed by Illinois and two other states, which accounts for one-third of the nations output. Among the top 10 corn producing states as well Nebraska is third, Minnesota fourth, fifth Indiana, South Dakota, sixth, seventh Kansas, Missouri, eighth, ninth Wisconsin, Ohio 10th . 10 states that produces corn accounts for nearly 90 percent of the U.S corn production.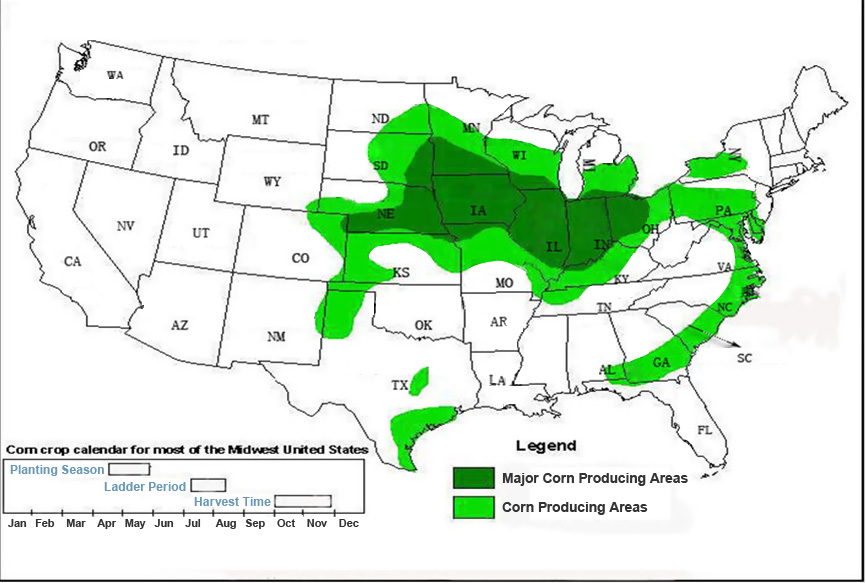 Features of Corn in America
In America, 90% of corn is used for feedstuff.
Classification of Corn:
●Dent Corn
●Sweet Corn
●Pop Corn
Color of Corn :
●Yellow corn : feedstuff, sweetener, starch
●White Corn : corn flour, hominy, grits
●Mixed Corn: feedstuff
Get In Touch
We receive enquiries in
English, Español (Spanish), Русский язык (Russian), Français (French) and العربية (Arabic)
. Our professional team will reply to you within one business day. Please feel FREE to contact us!