Home Use Flour Mill Also Need Maintenance
Home use flour mill production is more healthy
Flour has a high nutritional value and contains more crude fiber, which helps enterogastric peristalsis, is beneficial to health. It contains beta-carotene which can be absorbed and converted into vitamin A, it has anti-cancer effects; Plant cellulose can accelerate carcinogens and other poisons discharge; Natural vitamin E, can promote cell division, delay to reduce serum cholesterol, prevent the skin lesions of function, can reduce hardening of the arteries and brain function decline.
And the price of flour is cheap, delicate taste, so the flour is more popular among common people, is a kind of nutrition and save consumption choices.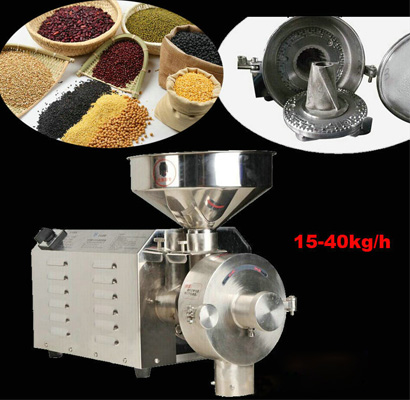 Home use flour mill should pay attention to the daily maintenance, so as to save costs and not a waste of time, which still can lengthen the service life.
In the process of flour mill used to regular inspect the fixing screw of movable toothed disk and all binding parts, make sure they shall not be loose. Add the lubricating oil right before starting, increase the number refueling for continuous work, it is necessary to maintain the spindle bearing cavity and clean after replace new lubricating oil, if the home flour mill is through 300 hours operation.
Environment must be appropriate, placed the home use flour mill in a stable place, the environment should be clean, dry and ventilated. Assure the host cavity without sundry. Materials must first be examined before crushing, impurities are not allowed so as not to cause damage to the flour mill.
Wearing parts should be replaced by professional repairman, contact the manufacturer for repair if there is a big damage.
Henan Kingman Mechanical & Electrical Complete Plant Co.,Ltd(KMEC) is a production, sales and after sales for the integration of grain processing equipment manufacturer, specializing in the production of flour processing machine, corn processing machinery, grain processing machinery etc. complete sets of equipment and home use flour mill. Welcome the customer to our factory and consult business. +0086 372 5965148
Get In Touch
We receive enquiries in
English, Español (Spanish), Русский язык (Russian), Français (French) and العربية (Arabic)
. Our professional team will reply to you within one business day. Please feel FREE to contact us!