Cleaning Process Before Corn Flour Production
Why should clean the corn?
There is mixed with a lot of impurities such as stones, leaves etc. at the time of harvest corn. So, corn must be cleaned up before processing, the cleaning process is basically the same as wheat and rice, but the corn kernel is bigger, it will be easier with the aid of corn processing equipment to remove impurity.
Corn Flour Production Process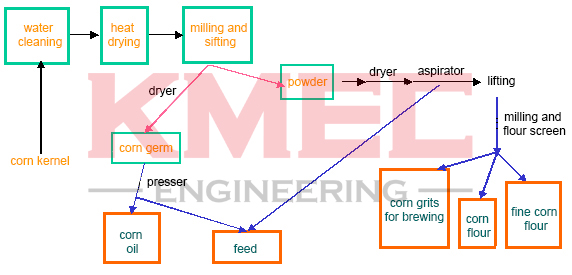 Cleaning Process
Screening, use vibrating screen to clean the corn is very necessary, the first and second screen surface clean large impurities, the third layer sieve surface clean small impurity, three layers of screen surface adopt circular punching sieve plate. Mesh with corn processing equipment: the first layer sieve diameter is 17 to 20 mm, the second sieve diameter is 12 to 15 meters, and the third layer is 2 mm.
Destoner of cleaning equipment will be used before corn processing. Remove stone can use gravity stoner. For corn kernel size is larger, suspension speed is higher, air volume should be increased when using using gravity stoner. Corn magnetic impurities usually adopts the horseshoe magnets to clean. Or you can also can use rotary drum magnet to remove magnetic impurities.
Corn processing equipment can easily remove the impurity in the corn, screening equipment, destoner, magnetic separation equipment are accessories of complete sets of corn processing equipment, after the processing technology to ensure the normal operation of corn processing equipment, and ensure the corn production high quality.
Typical Project→ 100T Corn Flour Milling Project in Nigeria
→ 80TPD Corn Flour and Grits Plant in Uganda
Get In Touch
We receive enquiries in
English, Español (Spanish), Русский язык (Russian), Français (French) and العربية (Arabic)
. Our professional team will reply to you within one business day. Please feel FREE to contact us!