Large Scale Flour Mill Equipment
With cooperation from additional factories we can supply any size flour mills to meet the depends of our customers. The capacity of our flour mill equipment range from 80TPD to 250TPD.
Storey Structure Plant
Normally, we adopt this frame when the input capacity is large, 4-6 storey building.
Section (4 floors) of flour mill equipment
aspirarting head
distributing system
siftering system
purifier system
flour milling machine
gravity destoner
Steel Frame Structure Plant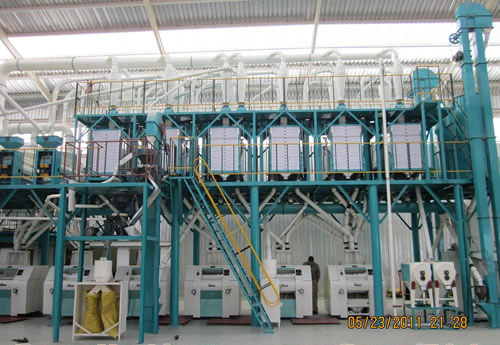 Normally we adopt this size frame when the input capacity is small. This series of flour mill equipment both at home and abroad. The steel frame construction, small volume, high output, good quality, high milling rate, low gray powder, few consume are some of the advantages. The cleaning section includes a double-bin sifter, two beaters, two destoners, and one washer. The milling section adopt the latest craft of husk and grain important, gradational and making flour through impact each other.
Contact us
If you're interested in our products or have any questions, please let us know. Don't hesitate to contact us!