Business Guide for Corn Flour Milling Machine
Have you thought of starting a corn flour milling machine business? Corn is one of the products with a very high utilization ratio for it is highly nutritious, it has constantly been referred to as the future grain. Corn has a comprehensive utility ratio making it one of the most profitable projects in the milling industry.
Corn flour milling machine business has in the recent past gained overwhelming attention. This is worth consideration for impending development. What you need is a corn flour milling machine business plan. It is also worth noting that this is a business which has gained much reputation over the recent past. ABC Machinery is a professional manufacturer and supplier for high quality corn / maize flour milling machinery. If you want to get more business information about setting up a flour mill, please get free to contact us!

Start a Corn flour milling machine business
This article gives you an insightful coverage of corn flour milling machine business. It contains the basic information you might be interested in knowing. In this article we will focus on ideal guides on how to locate your business, ideal venture needs, what you would probably expect among others.

Corn Mill Plant Investment and Construction—Business Guidance
Step 1 :Business Location
Global Market of Corn Flour Mill

| Region | Sub-region | Main reason |
| --- | --- | --- |
| North America | US | The use of products to make corn flakes and other baked and snack products is one of the main drivers of demand growth in the region. |
| Europe | Germany, UK,France, Italy and Netherlands | It occupies a major share in the product market where the consumption of pasta, soup and other confectionery products is growing, and corn flavor is the first choice. |
| Asia-pacific | India and China | The easy availability of raw materials, and the high consumption of staple foods and gluten-free foods will significantly drive the market. |

Similar to any other business venture, choosing the location of your business is an important aspect worth considering. The location of the corn milling machine needs to conform to the zoning legalities of that place. You will need to consider your target clients. The milled produce targets the pet producers, food makers among other end users of the product, the corn milling machine needs to be located in the most proximate site where corn farmers, suppliers, traders and end users are. This will earn you an easy task as you will not get exploited by the transportation cost.
Step 2 :Venture needs of a corn flour milling machine
For the complex corn flour milling, you will have to provide facilities for storage, sales offices, drying space, exhibits and display centers. In simple terms, it costs a lot. This will mean that you need to have enough money to fund day to day operations, paying out employees until and upon when it starts turning a profit.
Step 3 :The corn milling process
Generally a dry corn milling process would either involve milling the corn that basically involves removing a little hull and germ, tempering with the corn's moisture or cooking the corn in lime. The products of this milling are grits, meals and flour. Approximately 60% of this becomes the prime products whereas 30% becomes bran products and hominy feeds. Milled corn is used to produce a variety of products depending on its quality. Products of milled corn include snack foods, brewer grits, corn bread, breakfast cereals, corn flakes, corn cones, bakery mixes, cornbread and coatings.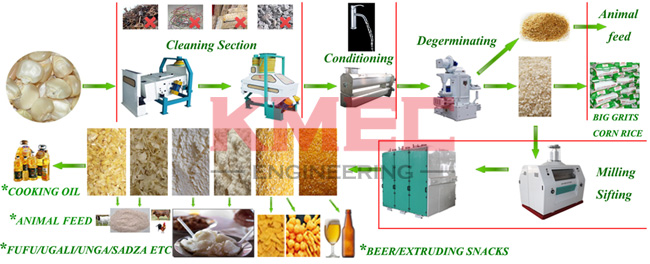 The above has already understood the preparations needed to establish a flour mill business, and we will also provide some simple technical support below. Just like the processing of corn flour. If you want to know a more detailed processing process, please don't hesitate to contact us !

Maize / Corn Milling Production Line Video
HOT Sale maize / corn flour mill machine offered by flour milling manufacturer or supplier, Guide on process of maize / corn flour milling production and How to start corn flour mill business with limited cost in Tanzania, Egypt, Morocco, Ghana, South Korea, etc.
Use and Maintenance of Corn Mill
With the increasing demand for corn flour in the corn flour market, more corn flour processing plants have been opened. The types of corn flour have also changed from the original one to several or more now. At the same time, more and more corn flour processing plants are being made. However, the same corn flour production line is bought together. How can some people use it for more than ten years, and some only use it for a few years? The problem arises in the usual maintenance and maintenance of the corn flour machinery production line.
Here is a brief introduction to prevent rusting of corn deep processing equipment:
1. Choose high-quality ones and apply them evenly. This not only improves the appearance quality of the equipment, but also reduces the phenomenon of peeling off the surface of the flour machine.
2. The places that have fallen off should be repaired in time to avoid aggravation of rust and improve the safety of corn deep processing equipment.
ABC Machinery makes use of excellent corn flour processing equipment to provide users with a factory building plan, which maximizes the user's financial benefits and creates more room for enterprise development. In addition, we use our own unique milling technology and reasonable and unique installation technology to make machinery and equipment produce better products for users. To learn more about flour equipment and installation and maintenance technology, please report below and leave your contact information, there will be professional knowledge to get in touch with you as soon as possible!
Get In Touch
We receive enquiries in
English, Español (Spanish), Русский язык (Russian), Français (French) and العربية (Arabic)
. Our professional team will reply to you within one business day. Please feel FREE to contact us!