High Quality Wheat and Maize Flour Mill Machinery in Turkey for Sale


All Kinds of Grain Flour Mills Supplier
KMEC is an international engineering company integrating design, technology, trade and manufacturing. It is mainly engaged in turnkey projects of grain processing machinery, including flour mill projects, oil mill projects, wood and feed pellet plants projects.
Most Turkey flour mill manufacturers get their flour mills from KMEC. These have gained a remarkable reputation over time for stocking and selling flour mills from KMEC for commercial production of different types of flours from wheat, maize, rice, sorghum and so forth. If you have not had a chance to learn about them, then it is almost certain that you have used one of their flour products, and through purchase of flour products processed with their exemplary products!
Why KEMC is So Popular among Flour Manufacturers in Turkey?
Well, there are so many factors that the experienced buyer will need to put into consideration, especially quality of flour mill equipment, prices, energy efficiency and so forth, but please rest assured, we have professional control and management for your needs.
High Quality Flour Mill Machine
KMEC's products include a single 10-30 tons/day flour mill machine, and a complete set of 30-250 tons/day flour mill machinery. We guarantee that the technology and equipment provided are internationally recognized and supported by technical experts from Henan Grain and Oil Engineering University.
Other Successful Flour Mill Projects

| Project name | Location |
| --- | --- |
| 40T Wheat Flour Mill Project | In Ethiopia |
| 100T Corn Flour Milling Project | In Nigeria |
| 160t Flour Mill Plant | In New Zealand |

Video of Flour Mill Machine
What's more, the flour manufacturers we cooperate with are all very well-known merchants in Turkey. The products from these manufacturers are what you have wanted in a flour mill, and the quality of their products have won the hearts of many users since they have been in this industry for decades.
Through understanding the performance of machinery, not only for our choice of purchase, but also for our future use will be of great help. If you want to know more details about flour machinery, please do not hesitate to contact us!

Reasonable Price
Usually, the price of equipment will affect the sales of products. The cost of high-quality flour mill production equipment is higher, so the price of the equipment will increase; on the contrary, if the price of the equipment is too low, the quality of the product will be questionable.
Therefore, there are professional people here to help you conduct on-site inspections, understand the local flour market and machinery prices, and provide you with the most suitable price and the best quality equipment.
For most of the customers, the total cost of flour milling machines is what they care most. Click the button below to ask us the price of the flour machine.

Attentive service
KEMC can provide a full set of technical services such as grain processing, grain pre-cleaning, grain cleaning, grain moistening, flour milling, flour mixing, and packaging.The next three services can give you some help by KMEC.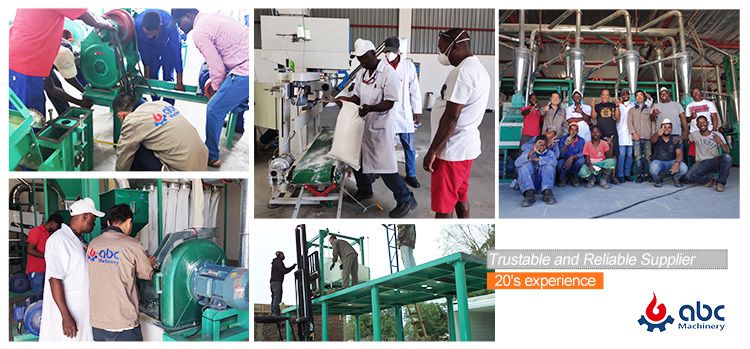 Staff Site Installation Guidance
1. Factory construction service: including organizing the supply of products; designing the factory construction plan, liaising with staff and being responsible for the transportation of goods, and responsible for the implementation of the project plan.

2. Technical training service: We will provide operation technical training. After the training, the user's technical staff can eliminate general faults. If the user cannot eliminate the faults, we will notify our company in time, and KEMC Machinery will send technical personnel to solve it.

3. After-sales service. Excellent manufacturers will provide good after-sales service for your flour equipment. It can repair the damage of the machine in use and protect the economic interests of customers.
If you want to experience quality, then you want to check the KMEC group of flour mill manufacturers out. The quality of their products is the one thing that makes them unique and this is what any buyer wants to have, right? This ensures that the finished flour is of the highest possible, good for your business if you are in commercial production. The price of a flour mill is another factor that a user will have to consider. With these manufacturers, any user will find the ultimate machine for the intended application, without worrying about formidable costs. The cost of installation is also very reasonable.
The flexibility of the products of the KMEC flour mill manufacturers is something that the user will find very comfortable. With so many flour-milling recipes to experiment with using a single flour- mill, the process is one time, whatever the type of flour intended.
Please come and contact us!
Get In Touch
We receive enquiries in
English, Español (Spanish), Русский язык (Russian), Français (French) and العربية (Arabic)
. Our professional team will reply to you within one business day. Please feel FREE to contact us!