How Much Will a Flour Mill Project Cost?
With the improvement of people's living standard, the demand for flour is increasing day by day, many friends want to start flour milling business, but do not know how to set up a flour mill, what flour mill machinery is needed and what is the cost of setting up a flour mill? If you want to build a flour mill four business, you must first understand flour mill equipment and local demand for wheat flour, that is, the production capacity. Flour mill machinery is divided into small, medium-sized, large flour milling machine, which is equipped with different units, different models. And, the flour milling machine price is different. (Read more: Flour Mill Machine for Small Business >>)


Start Flour Milling Business
Small flour milling machine is also called single flour machinery, medium and large flour mill machine can also be called double flour milling machinery and multiple groups of flour processing equipment. Or, in terms of volume, the big ones are large scale flour mill machine, the small ones are small flour mill.


Flour Mill Machinery Types
If the local demand flor flour is about 1 to 20 tons per day, choose a small scale flour mill machinery;
If the local demand flor flour is about 20 to 50 tons per day, set up a midium size flour production plant;
If the local demand flor flour is above 50 tons per day, build a large scale flour mill project;
ABC Machinery, one of the largest grain and oil processing equipment manufacturer and supplier in China, boasts strong capacity to build flour mill plant at low cost to prococess wheat, maize/corn, rice, cassava, and other grains. We provides one-stop service on flour milling business, including equipment selection, flour mill plant layout design, related equipment installation and commissioning, worker trainning and more. We have a lot of flour mill project reports that are calculated in these years, please contact us directly to get more information!

Flour Milling Process and Equipment
The process that turns grain into healthy flour that enrich our daily consumption from bread, cookies, cereals to a multitude of varied foods. However, a series of flour mill production process must happen to the grain until it is marketed and reaches our tables. Flour milling is a complex process that starts the grain from its journey to the final consumer. This long process is divided by a series of steps that is performed in a sanitary manner. A good practice in health science is the result of the analysis of each operation and the development of the analyzes of the designed programs in which, if properly followed, contamination of the ground grain is prevented. (Read more: Maize Flour Milling Process >>)
The processes for grains milling can be carried out by hand or in an industrial way. Despite producing at different scales, the objective is to maximize benefits, that is, to choose and classify grains appropriately to maximize production and thus gain more profits. In this way, production is guaranteed and, above all, the performance and quality of the product that is going to be produced and distributed to the final consumer. (Read more: Small Scale Flour Mill Machinery >>)
The genernal flour milling process is divided into 5 phases which are the reception of the raw material, grain cleaning, classification and selection of the grain, milling, packaging and transportation. And, the basic flour milling equipment includes raw material silo, sifter, destoner, pneumatic mill. high plan sifter, purifier, bran finisher, bagging machine, etc..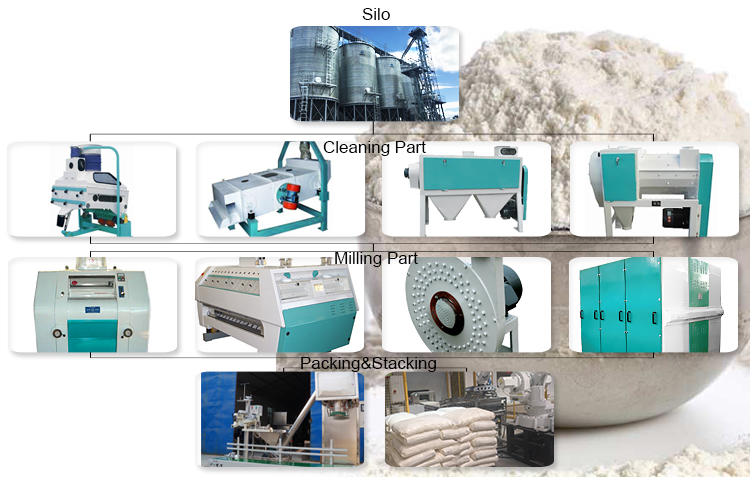 Flour Milling Machine and Process
Reception of Raw Material
First, it is the selection of the grain according to its properties and qualities.
The second stop for the raw grain is in the cleaning section, where it goes through equipment designed to remove all foreign materials such as sand and straw. Then it goes through the polishers that are responsible for removing dust. Also, it should go through a vacuuming process to remove any impurities with air.
When being cleaned, the grain is directed to be processed, this process is known as tempering, therefore, when the corn or wheat grains are ground, it is necessary to soften the kernels by adding water to condition it.
The flour milling process consists of separating the outer part of the grain from the inner part, to reduce it to a suitable size known as flour. To obtain a higher proportion of flour, the grinding process in its different steps, which are: crushing, reduction and compression, is carried out with a pair system of high pressure cast steel rollers with specific characteristics for each weighing. The sieve is in charge of classifying all the products received from the weighing of the grinding, through a set of sieves, which the product goes through and separates according to the size of the particle, then it is sent to a security sieve. The product is weighed on electronic scales. (Related equipment: Home Maize Grinding Machine >>)
Packaging and Transportation
It is transported to the hoppers to store the finished product. The flour can be added with oxidants, whiteners, enzyme levelers or other micro-ingredients to complete its end use objective. The flour is transferred to packing hoppers or bulk cargo. Later, it is packed in polypropylene or paper bags for transportation.
Small Flour Mill Plant Working Video
Flour Mill Project Cost Influencing Factor
How much does a flour mill cost? There are many factors that can decide the total cost, like the capacity, labor cost, and more.
First, the size of flour mill plant project you are going to build. How big is the facility you are trying to have built? Clearly, the size of your flour mill will affect your business operations as well as your potential revenue or income. So if you have a bigger or wider flour mill, you will be able to fit more machines and equipment to produce the commodity. This will, in turn, yield greater production of flour in the least amount of time needed.
Another factor is the labor-intensive requirements of your flour mill project. The bigger the project, the greater amount of manpower needed as well as the equipment to be used. The time frame for the project will also be considerably greater than a smaller flour mill project. Expect to pay higher if your project has specialized needs or is needed to be completed as soon as possible.
The cost for flour mill projects may range from as low as 5000 USD to as high as 60000 USD, depending on your individual project circumstances, like the flour milling process you choose, the equipment you buy, and more. For instance, a fully automatic flour mill plant will cost more than a simple flour mill plant. If you are not sure, please contact us to get professional suggestions.

Flour Mill Plant Project Report
Since estalishment, ABC Machinery has built many flour mill plant, ranging from 10~500TPD, around the world. Below listed some of the flour mill plant project for your reference. If you are also interested in set up your own flour mill project, please contact us to get the latest price and equipment list!


Flour Mill Plant Project Report
| No. | Flour Mill Plant Project Report - ABC Machinery |
| --- | --- |
| 1 | 30TPD Small Wheat Flour Mill Plant in Chile |
| 2 | 40TPD Wheat Flour Processing Plant in Ethiopia |
| 3 | 60TPD Maize Flour Milling Plant in Zambia |
| 4 | 80 TPD Maize Flour/Grits Processing Plant in Uganda |
| 5 | 120TPD Automatic Wheat Flour Mill Project in India |
| 6 | 160TPD Fully Automatic Wheat Flour Plant Project in New Zealand |
| ..... | there are many projects that can't be listed here, if you have any qestions, please contact us directly! |
Get In Touch
We receive enquiries in
English, Español (Spanish), Русский язык (Russian), Français (French) and العربية (Arabic)
. Our professional team will reply to you within one business day. Please feel FREE to contact us!