Corn/Maize Flour Milling Machine & Process & Cost
Maize Processing Machine can be used to process the maize into different types of corn/maize products, including corn/maize bran, corn/maize grits and corn/maize flour.


Products by Maize Flour Production Machine
Start Your Own Corn/Maize Flour Milling Business
Starting a maize milling plant for commercial purpose is popular in many countries, like Kenya, Zambia, Tanzania, Uganda, Nigeria, etc. No matter whether you have known the maize production or not, the basic maize flour production process, complete maize flour production line are extremely important for a maize flour milling factory and even the key factors for the success of maize flour business. (Read more: Cost of Setting up a Flour Mill >>)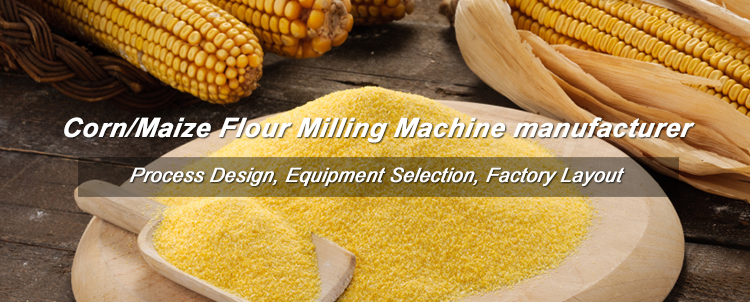 Start Maize Flour Milling Business
But, how to process maize into flour? How much it would cost to set up a small scale maize flour mill plant? If you are going to venture into maize flour manufacturing, it is better to know maize flour production process and maize flour processing machines. For most of investors, farmers, small scale businessman, small scale flour mill machine that corperates full maize flour milling process would be the BEST choice.
Small Corn/Maize Flour Milling Machine - ABC Machinery
The complete set of maize flour processing plant is designed by the research and development department of our company according to the market demands, with reference to the popular trend of corn processing industry in the world. It is a small scale flour mill that maintains the essence of large scale flour manufacturing plant. From the elevation of raw materials, selection by winnowing, removal of micro impurities, stone, metals, moisture adjustment, peeling, corn germ removal, crushing, slagging, flour milling, packaging, etc, it can complete all maize flour production processes efficiently. It can produce different size of maize grits, and maize flour from 30 to 120 mesh. It can totally meet the different needs of the market.

New Type Small Maize Flour Processing Plant Features
In addition, our company also has developed new type maize flour processing plant that can achieve automatic processing, dry peeling and versatile for various grains flour milling. It has many outstanding features and is the hot product now.
Small power, high efficiency, simple operation, convenient maintenance.
Streamlined modular design adopts grain cleaning, two peeling, and a polishing process, the entire maize flour processing process to achieve automation.
The dry peeling our small scale maize processing line adopted allows no touch with water. So the whole process is more sanitary compared with wet peeling method.
Due to the modular design scheme, it can also process other grains, such as wheat, sorghum, millet and other grains.
The main parts of the equipment are made of the patented alloy material that conforms to the export standard, which can guarantee the production efficiency and give consideration to the long-term stability of the equipment, so that users do not spend more money in maintenance.
The investment of the same capacity is more than 50% lower than that of domestic counterparts and 80% lower than that of international counterparts
The maize milling process is automated, and only one electronic control worker and one packing worker are needed for the whole maize flour production plant, so it can greatly saves labor expenses.
The maize processing equipment involved in the unit has been successfully applied in the market for more than 20 years. The equipment has not only won the trust of domestic users, but also is well received in the United States, Italy and Russia.

Through these years' development, our company ABC Machinery has been the leading grain processing machine manufacturer and supplier in China. We can provide one-stop service to help you build a automatic flour mill plant on equipment selection, factory layout design, equipment installation and commissioning, technical trainning, etc. Most importantly, we are the orginal manufacturer for the main maize processing equipment, we can guarantee the most favorable factory price for you. For equipment price list, flour mill project cost, machinery parameters, please contact directly!

5~15TPD Flour Production Plant Produce Maize Grits and Maize Flour
Corn/Maize Flour Production Process
The maize flour milling process is mechanical and consists of several processes. It starts by the cleaning of the maize and ends by its grinding and sieving into flour. (You may also like: Wheat Flour Processing >>)


Maize Flour Production Process
The cleaning of maize flour production process is done by removing all the foreign material like sand, grit and dirt that may be present in the maize. These foreign materials and any other impurity that may be harmful to humans after consumption of the flour or can damage the maize flour milling machine during maize flour processing are removed. This process ensures the maize for superior flour quality. All these foreign materials are removed by a sieving process where all course particles are removed. Different kinds of sieves are used which ensures all materials bigger or smaller than the maize itself is left behind. (Related Equipment: Grain Cleaning Equipment >>)
After cleaning, the second step of Maize/Corn Flour Production Process is maize conditioning. This is the addition of moisture to it and allowing it to soak for some time. This allows the bran to be peeled off easily. The maize is then de-germinated and polished prior to flour milling. This is the separation of the germ meal, endosperm and bran.This process results in very high quality maize meal. When the bran, endosperm and gem are ground together, the resulting maize meal is considered poor quality. This is because it has a shorter shelf life, gives the porridge a yellow appearance and gives the eater a bloated feeling.
The maize is then passed through a flour milling machine where it is grounded up into flour. After the milling, the last step of the maize flour production is sieving the flour. Flour of the desired quality is retrieved and the residue is returned in the machine for further milling. (Related Post: Maize Milling Machine Manufacturers >>)
Get In Touch
We receive enquiries in
English, Español (Spanish), Русский язык (Russian), Français (French) and العربية (Arabic)
. Our professional team will reply to you within one business day. Please feel FREE to contact us!