Small Scale Flour Mill
ABC Machinery offers highly efficient small scale flour mill machinery to help our customers to build their own flour milling factory at lower cost. We offer full services on factory layout design, equipment selection, onsite installation and commissioning, and worker training. And now, you can check our equipment and factory through more fast ways, like phone video. Welcome to contact us to get more information about flour milling machine!
Flour is a powder that is made from grains, beans, seeds, nuts, etc., among which wheat flour and corn/maize flour are the most important staple food for a large part of the world's human population. Other grain flour like cassava flour, rye flour, is also important for human food. (Read more: Cassava Flour Machine >>)


Wheat Corn Flour Milling
With the development of a world economy and acceleration of grain circulation, new solutions to grain processing have been taken on and small scale, low investment flour mills have been welcomed by vast villages, which provides great business opportunity for farmers, businessman and investors to set up a small scale, medium scale flour mill plant. (Related Post: Small Scale Flour Mill Project >>)
M6FTY-10 Small Scale Flour Milling Machine
This M6FTY-10 small flour milling machine is one of HOT sale small scale flour mill machinery due to its compact size, high efficiency and easy operation. This unit mainly has two workshop sections, one is screening, and the other is flour milling. Its screen room is designed with one sifter, one scourer, one destoner and one dampering. And, its flour milling is mainly composed of two sets of 6FY-35 flour milling machine, three sets of reel separator and one set of air net. (Read more: Cost of Setting up a Maize Mill in Uganda >>)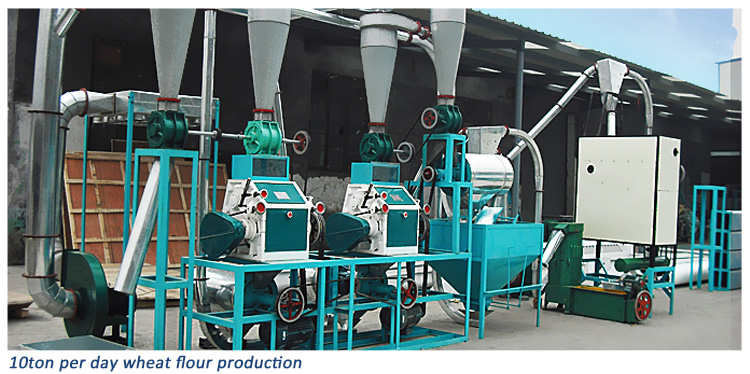 10TPD Small Scale Wheat Flour Milling Machine
Main Technical Parameters of M6FTY-10 Flour Mill Machine
| Capacity | 10T/D |
| --- | --- |
| Extraction Rate | 78% |
| Quality Standard | GB1351 |
| Power | 26.5kw,3 phase,380v,50hz |
| Covering Area | 6.6*3.8*3.5m (L*W*H) |

M6FTY-20 Small Scale Flour Mill Plant
The working principle of M6FTY-20 small flour mill plant is similar to M6FTY-10 series. The equipment in the screenroom is also one sifter, one scourer, one stoner and one damper. But it has five sets of 6F-35 flour milling machine and five sets of reel separator. It is also featured with high production efficiency, low power consumption, convenient and safe operation. (Read more: Fully Automatic Flour Mill Plant Cost >>)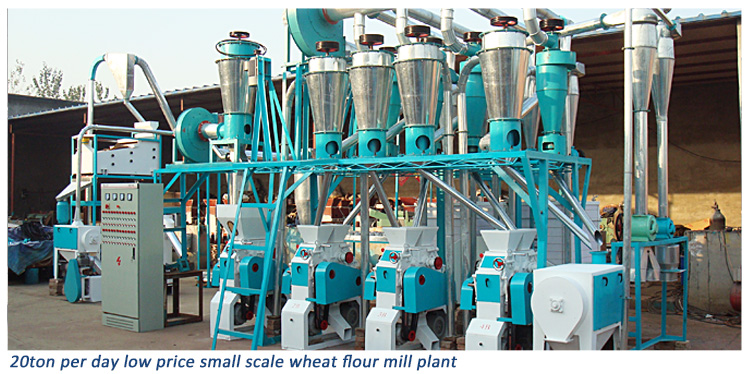 20TPD Small Scale Flour Mill Machinery
Main Technical Parameters of M6FTY-20 Flour Mill Machine
| Capacity | 20T/D |
| --- | --- |
| Extraction rate | 85% |
| Quality standard | GB1351 |
| Power | 59.9kw,3 phase,380v,50hz |
| Covering Area | 18*7*5m (L*W*H) |
Flour Mill Machine for Small Scale Business
Buy high quality small scale flour mill machinery to wheat corn maize rice flour making: Hot sale small scale flour mill machinery offered by small scale flour mill machinery manufacturer or supplier, guide on process of grain flour production and how to start flour milling business with limited cost in Tanzania, Egypt, Morocco, Ghana, South Korea, etc.

Small Scale Flour Mill Project Built by ABC Machinery
► 10TPD Small Wheat Flour Production Line to Kenya
► 20TPD Maize Flour Mill Plant Setting Up in Mozambique
► 20T Maize Flour Plant Built in Uganda
Here just listed part of small scale flour mill plants we built around the world, if you are also interested in setting up a small scale flour milling plant, please contact us to get the project report the project cost for referece!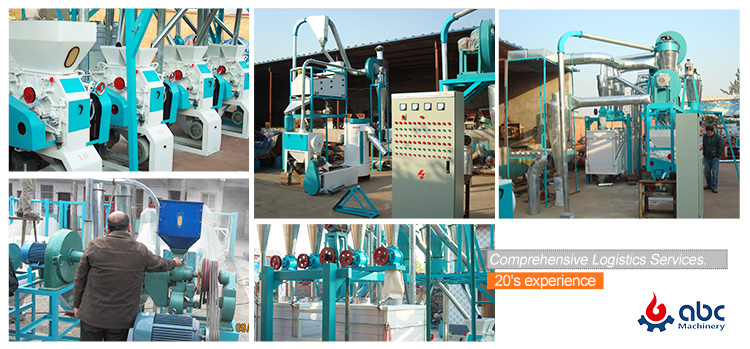 Setup Small Scale Flour Mill Plant Project


Tips on Choosing Suitable Small Scale Flour Mill Machinery
Small scale flour mill machinery has a small size, is less costly, consumes less energy, and takes less space as compared to the large scale flour mill machine. Because of all these reasons, it is favored by those who want to start a flour business on a small scale. If you are interested in buying small scale flour mill machinery for your business, then here is what you should look for in the machinery!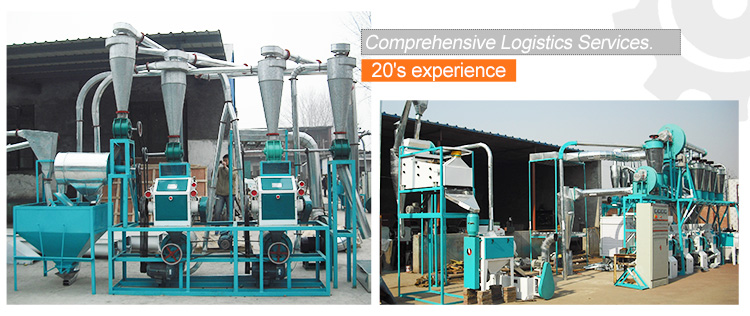 Buy Small Scale Flour Mill Machinery
According to Your Desirable Raw Material
Choose the machine according to the raw material that you want to use. Some parts of the machine are grain-specific. For instance, sieves, rollers, and grinders are available in different types. The sieve can be horizontal sieve or vibrating sieve, choose the one that fits well with your raw material. Similarly, rollers and grinders have different types and orientations. Their main function is to convert grains into flour. They should be chosen based on your raw material, wheat, corn/maize, cassava, rice, or other.
You should also check what the flour production capacity of the machine is. Small scale flour mill has a low production rate as compared to large scale flour mill project. Depending on the machine's quality, different small scale machines have different production capacities. Some can generate flour in large capacity that is nearly equal to the capacity of large scale machines. So, choose the one that has a high productivity rate and gives you more flour in less time.
Nutrient Quantity Should Not Get Affected
Low-quality machines do not produce the end product that have the same nutrient content as the raw material has. Such machines reduce the quality of flour they produce. On the contrary, high-quality flour mill machinery gives the same nutrient content of the flour, as is the nutrient content of the raw material. Make sure you pick the right machinery.
Although small scale machinery is cheaper than large scale machinery, it still can be costly for you if you have a low budget. Choose the one that is not very expensive yet gives high-quality end results. If you find machinery that is costly but is of great quality, then choose quality over money. The reason is, the machinery is a long term investment. It will make your business successful only if it gives desirable results.
The quality of machinery greatly depends on the manufacturing company. Do your homework before choosing a brand. Look for the reviews of their old clients and then choose a company that is reputable.

Get In Touch
We receive enquiries in
English, Español (Spanish), Русский язык (Russian), Français (French) and العربية (Arabic)
. Our professional team will reply to you within one business day. Please feel FREE to contact us!