Setting up Mini Flour Mill Plant Cost
Flour is used to make many foods such as crepes, noodles, cakes and other products based on baked grains. Wheat flour or wheat bran is the basic raw material for making bread, biscuits and many other baked goods.
Flour milling businesses exist to serve one of the markets in any economy, flour mill plants like corn flour and rice flour provide the production of farm feeds.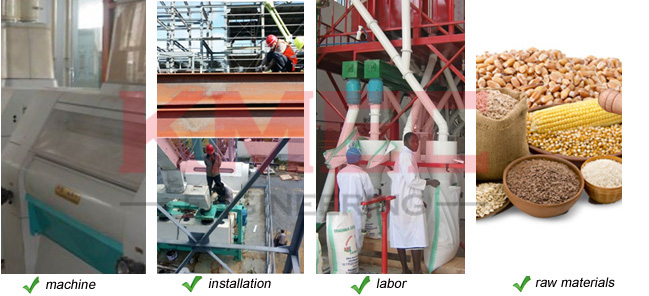 ABC Machinery offers complete flour mill construction solutions with advanced technology, efficient equipment, professional installation, complete support and quality service. If you are interested in small-scale flour mills, please feel free to contact us! A mini flour business has great potential. In this article I have explored different factors that determine the cost of setting up a mini flour mill plant.

How Much Does It Cost to Build A Flour Mill?
Cost of the equipment and machinery
A mini flour plant is considered to be small in these factors: size, energy consumption and scale of production. Therefore, when selecting equipment for your small plant, put into consideration your objective and choose the right technology. Quality also plays a role in the mini flour mill plant cost. High quality machines always have low maintenance cost and are very efficient.
Installations costs and maintenance
For your plant to work efficiently, installations and set up to be done to standards. It is advisable to buy the mini flour mill pants from manufactures or certified professionals. They usually supply and charge you a percentage of the cost of the machinery and equipment as the installation fees.

Raw Materials of Flour Made by Flour Mill
The only raw materials that a flour mill plant needs are grains, rice or wheat- this depends on the type of flour under production. The cost of these commodities usually vary and greatly depend on where you outsource your raw materials; locally or from international markets. Budgets for raw materials should be set depending on your production target over a selected.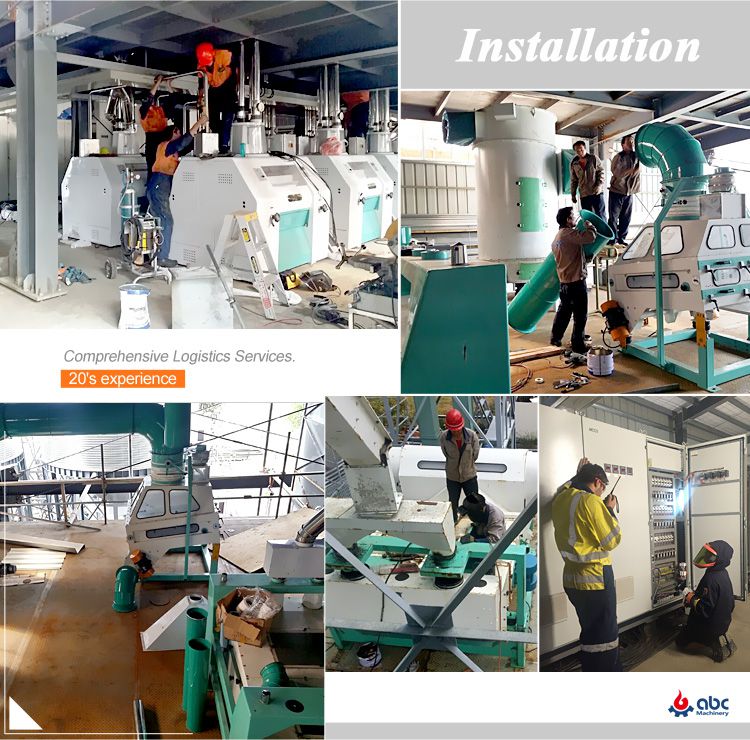 160tpd Flour Mill Factory Installation

The production capacity of any business always determines the labor costs. A mini flour mill plant needs both skilled labor and unskilled workers for general support to ensure that production runs smoothly. The plant also needs a professional and skilled technician who knows how to operate the machine to oversee the day to day production. An Accountant or a manager, to keep track expenses like out sourcing and supply is also necessary. General labor also is important to operations of any plant.
Setting up a mini flour mill plant costs vary greatly. Depending on the type of technology and efficiency, the flour mill machine and equipment etc. Start your own business from choosing us today!

Video of Mini Flour Mill
How to make wheat flour at home or farms? – buy high quality feed pellet machine for flour making: HOT sale mini flour mill offered flour processing machine manufacturer or supplier, guide on process of flour production and how to start a flour making business with limited cost in India, Turkey, US, European Union,etc.
Successful Flour Mill Projects
Click here to learn about our mill projects in recent years, ABC Machinery provides you with a more rational biomass pellet production process with fewer operators required. The daily output of various flour mills ABC Machinery undertook is 100-1,000 tons.
| Flour mill projects | Region |
| --- | --- |
| 100T Corn Flour Milling Project | In Nigeria |
| 160t Flour Mill Plant | In New Zealand |

You should not miss the plan for the construction of the flour mill, the cost and the quotation of the milling equipment !
ABC Machinery has high-quality equipment, and you are welcome to invest and build a factory. If you have any questions, please feel free to contact us. We will reply to you within one working day!
Get In Touch
We receive enquiries in
English, Español (Spanish), Русский язык (Russian), Français (French) and العربية (Arabic)
. Our professional team will reply to you within one business day. Please feel FREE to contact us!