Setting up Mini Flour Mill Plant Cost
Flour milling businesses exists to serve on of the markets in any economy, flour mill plant like corn flour and rice flour provide the production of farm feeds.
A mini flour business has a great potential. In this article I have explored different factors that determine the cost of setting up a mini flour mill plant.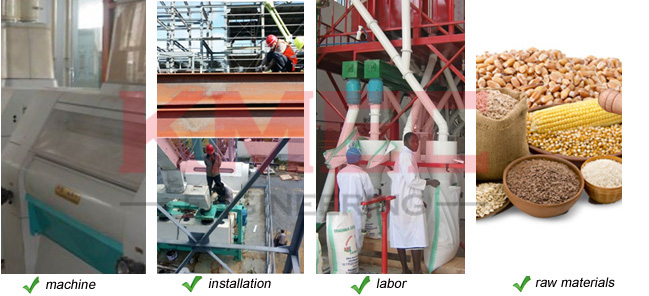 Cost of the equipment and machinery
A mini flour plant is considered to be small in these factors: size, energy consumption and scale of production. Therefore, when selecting equipment for your small plant put into consideration your objective and chooses the right technology. Quality also plays role in the mini flour mill plant cost. High quality machines always have low maintenance cost and are very efficient.
Installations costs and maintenance
For your plant work efficiently installations and set up to be done to standards. It is advisable to buy the mini flour mill pant from manufactures or certified professionals. They usually supply and charge you percentage of the cost of the machinery and equipment as the installation fees.
Raw materials
The only raw materials that a flour mill plant needs are grains, rice or wheat- this depends on the type of flour under production. The cost of this commodities usually vary and greatly depend on where you out source your raw materials; locally or from international markets. Budgets for raw materials should be set depending on your production target over a selected
Labor Costs
The production capacity of any business always determines the labor costs. A mini flour mill plant needs both skilled labor and unskilled workers for general support to ensure that production runs smoothly. The plant also needs a professional and skilled technician who knows how to operate the machine to oversee the day to day production. An Accountant or a manager, to keep track expenses like out sourcing and supply s also necessary. General labor also is important to operations of any plant.
Setting up a mini flour mill plant costs vary greatly. Depending on the type of technology and efficiency, the tlour mill machine and equipments etc. Start your own business from choosing us today!
Get In Touch
We receive enquiries in
English, Español (Spanish), Русский язык (Russian), Français (French) and العربية (Arabic)
. Our professional team will reply to you within one business day. Please feel FREE to contact us!