Small Maize / Corn Flour Mill Machinery Design and Layout
Maize is recognized as the world's "golden crop", with the highest content of phosphorus, fat and vitamin B2 in cereals. As the concept of healthy diet becomes more popular, the demand for maize flour production is increasing. This presents a great opportunity to start a maize / corn flour manufacturing business.


Business Investment for Establishing a Corn Flour Milling Plant
Building a small maize flour production line at home has always been an excellent choice for small grain processing projects. This is because maize flour is always in short supply. If you make your own corn flour at home through a small maize flour milling plant, then you will be able to save a lot of money on the cost of setting up the factory. On the other hand, if you sell them in the market, then you will earn a lot of income. Therefore, investing in a maize flour mill is a profitable opportunity for anyone who wants to earn a substantial income. (Related post: Buying A Small Maize Flour Mill to Start A Milling Business>)

3 Tips for Starting a Maize Flour Milling Plant
A scientific and reasonable maize processing equipment processing line can not only improve production efficiency, the quality of finished products, but also to maximize the benefits, so that customers can recover costs in the shortest possible time and start making a profit, so how to see whether the configuration of a maize processing equipment is reasonable?
First, corn / maize processing equipment production line process to complete
Maize processing sets of equipment process:
Cleaning ⇒ Peeling ⇒ Sterilization ⇒ Crushing ⇒ Grinding ⇒ Flour making ⇒ Packing
Complete maize processing equipment production is a basic step to ensure that manufacturers can properly carry out production.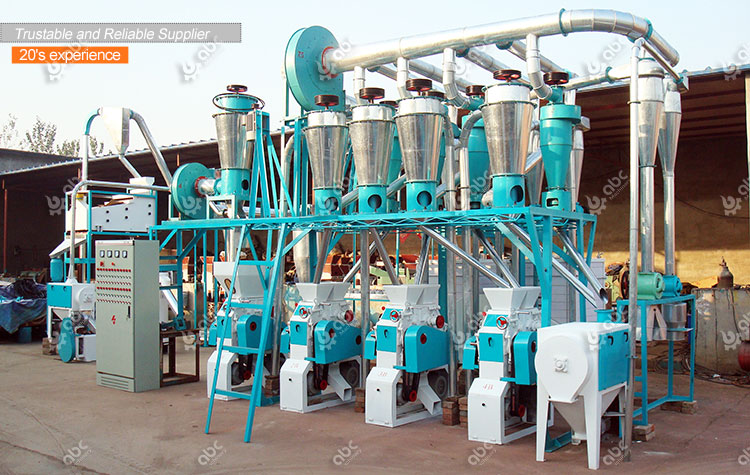 20 TPD Maize Flour Milling Business in Mozambique
A complete, 10~30 small maize flour/grits grinding plant consists of cleaning equipment, peeling and de-bacterizing equipment, maize flour or grits manufacturing equipment, corn flour/grits packing machine, etc. We offer small corn mills including 10TPD, 15TPD, 20TPD and 30TPD . (Latest News: Household Maize Flour Production Plant in Uganda )
Second, the desi​gn layout of the production line of complete sets of maize processing equipment should be convenient.
Maize processing equipment design layout should be reasonable and suitable to facilitate the operation of production workers, effective use of workshop production area and consider the interconnection between production lines. The location of the maize processing equipment will involve the interrelationship between the production lines, to be installed according to the order required by the finished product processor, the overall consideration of the production flow of finished products, shorten the line and reduce transport time. Maize processing equipment design layout we will give plant design or production line design drawings according to the customer's site, surrounding conditions, so that customers can refer to.

Supplying Maize Flour Production Plant Factory Design
Third, maize processing equipment supporting the appropriate type of equipment, equipment categories to complete.
Different configurations of maize processing equipment production line equipment models and configurations will be more or less different, these stand-alone equipment determines the quality of the maize flour produced.
Therefore, the need to choose the right model of equipment according to the output, to avoid the lack of equipment capacity to affect the production schedule, or equipment models are too large waste of resources.
In short, excellent plant design and installation will not only reduce the quality cost of the product, but also reduce the time, effort and money invested due to quality problems, etc. The total cost will be significantly reduced. So the maize processing plant design and installation team corn processing enterprises is a very big impact, especially for new, renovation and expansion of the enterprise has an important role that can not be ignored. (Read More: Maize Flour Milling Business Plant Cost)

Small Maize Flour Mill Equipment for Sale
Set up small home corn flour mill - factory price maize flour and grits manufacturing machinery: buy small maize flour mill from flour milling sets manufacturers or suppliers at factory price, get free technical guidance on maize flour manufacturing process and business plan to set up maize flour mill project in Kyrgyzstan, Pakistan, Bangladesh, Uzbekistan, Saudi Arabia, etc., at low cost.
Global Market Trends in Maize Flour production
Maize is native to Central America, and now is widely cultivated throughout the world. The growing area of maize is mainly distributed in the latitude of 30°-50°. The most widely cultivated areas of maize are the United States, China, Brazil, Mexico, South Africa, India, and Romania. According to the statistics and forecasts, the global maize flour market sales reached USD 24.83 billion in 2021 and is expected to reach USD 31.7 billion by 2028, growing at a CAGR of 3.5%. Therefore, investing in a maize flour production plant is a lucrative project.


Global Market for Maize Flour Milling Project Outlook
American Market

According to FAO, the U.S. is the largest producer of maize in 2020 with a production of 360.251 million tons, accounting for 30.99% of the total global production, and corn is the driver of the U.S. economy. Most of the corn consumed in the region is used as a major energy component in livestock feed, and maize is also used to process a variety of food and industrial products, including corn flour, alcohol, sweeteners and by-product feed.
Mexican Market

In Mexico, maize is also a major crop, with consumption of 20.57 million tons during 2017-2018, increasing to 21.53 million tons by 2019-2020. The demand for maize is expected to grow over the forecast period as the use of corn flour in a wide range of applications is increasing.
African Market

Dough-like staples made from maize are found all over Africa, such as Ugali and Nshima. Many African countries use maize as the staple food, such as Zambia, Congo, Uganda, Kenya, and others countries.
Get In Touch
We receive enquiries in
English, Español (Spanish), Русский язык (Russian), Français (French) and العربية (Arabic)
. Our professional team will reply to you within one business day. Please feel FREE to contact us!