15 TPD Wheat Flour Manufacturing Factory Layout in Pakistan
Wheat is an essential global staple, containing more protein and calories than any other grain crop, and is the most important of the cereals, followed by corn, barley and sorghum.
Therefore, from an investment point of view, there is an excellent opportunity to make money in the wheat flour milling business. Typically, wheat is ground into different finenesses of flour. The entire processing process of wheat flour production requires special flour making equipment.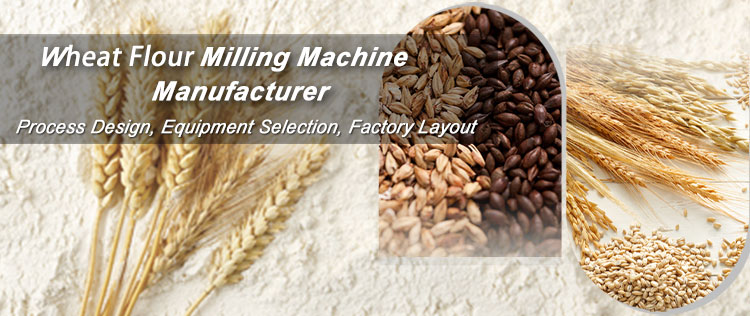 Investing in Wheat Flour Milling Plant Business
ABC Machinery is a professional manufacturer and supplier of wheat milling machine with factory price and best service from process design to after-sales service. Welcome to contact us for more information about wheat milling equipment for sale. (Related articles: China wheat milling production line for sale >>)

15 Tons/Day Wheat Milling and Processing Machine Exported to Pakistan
Recently, a customer from Pakistan purchased a 15TPD wheat milling line from ABC Machinery. He is planning to set up his own wheat milling plant in his hometown in Pakistan and is inclined to start his investment with a small flour milling business. (Read more: Wheat milling manufacturing plant cost>>) Our professional engineers provided him with a complete wheat milling processing solution. If you are interested in also starting a wheat milling business, please feel free to contact us for detailed business plans, project reports and the latest equipment prices and construction costs.
This mini wheat milling processing plant is designed with the process of cleaning - washing - wetting - milling - sieving - packing. A complete wheat milling process is used: part of the flour produced is made for food and part is sold locally. Here is the photo of the equipment.
Wheat Flour Production and Processing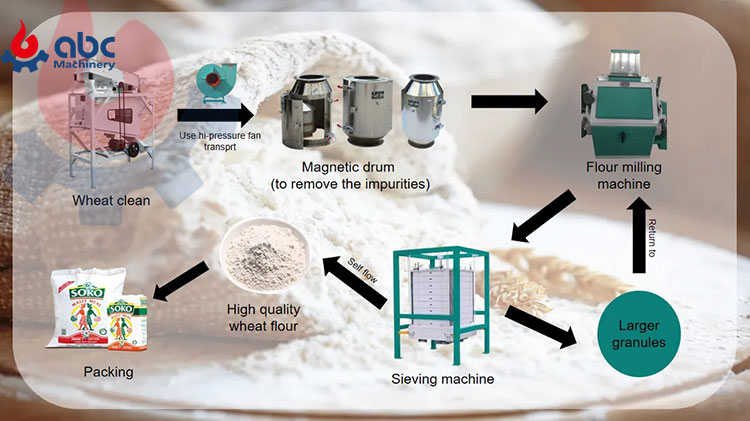 Wheat Flour Production Processing Flow Chart
Mainly to clean up the wheat straw, stones, broken wheat and other impurities that affect the flour yield. The main equipment are: wheat beater, de-stone machine, wind selection, selection, etc. According to the quality requirements of wheat flour making, various flour mills will have certain differences
Wheat needs to be cleaned with water so that the moisture content of wheat reaches a certain level, which can improve the toughness of the wheat skin and reduce the mechanical strength of the wheat endosperm, so that when grinding, so that the wheat skin is not ground to pieces and affect the quality of flour, and the tempered endosperm makes the mill roller wear less, while reducing energy consumption. Generally speaking, add more water to high gluten wheat and relatively less to low gluten wheat.
The water in the wheat warehouse should be stored for a certain period of time, usually between 8 and 24 hours, depending on the wheat variety and temperature. High gluten wheat usually takes longer, and it also takes longer to wet wheat in winter. After watering and wetting, the wheat is called incoming wheat, and the moisture of incoming wheat is controlled at 14 to 16%. If it is too high, it will affect the sieving later. 4.
Divided into heart grinding system and skin grinding system, the mill crushes wheat into large bran, small bran, large endosperm, small endosperm, coarse powder and fine powder, and then puts different materials into different grinding trays to grind, with sieving and clearing powder. This is a very complicated process that needs to be adjusted by experienced flour masters to achieve the best results. Finally, we get fine flour, coarse bran and fine bran.
5. Mixing of flour ( option )
Due to the demand of special flour, one kind of wheat milled into flour often can't meet the customer's requirement. By mixing different wheat flours in a certain proportion, the various flour characteristics of the finished flour can be adjusted to meet the customer's requirements.
Finally, the finished flour is packaged.
Video: Wheat Flour Manufacturing Factory Layout
To learn more about wheat milling plants and start your own wheat flour processing business, please feel free to contact us!
Get In Touch
We receive enquiries in
English, Español (Spanish), Русский язык (Russian), Français (French) and العربية (Arabic)
. Our professional team will reply to you within one business day. Please feel FREE to contact us!