20TPD Wheat Production Line Exported to Lebanon
Nowadays, since people do not want to store grain, they choose to sell their wheat to flour producers instead. It saves time and effort to buy flour from distributors when needed. ABC Machinery is a machinery and equipment company with over 20 years of experience in making flour production equipment. If you are interested in how to start a flour mill, we will provide you with free information on site selection, plant design, equipment selection and cost estimation, please feel free to contact us!(Related article:Start A 20 Ton/Day Wheat Milling Process Business In Ecuador)


Set Up Your Own Wheat Flour Milling Plant for Making Pasta
A 20TPD Wheat Production Line for Making Pasta Ordered by a Lebanese Customer
Recently, a customer from Lebanon purchased a 20TPD wheat flour mill for his wheat flour production business.Previously, the customer used to buy wheat flour for local sales of pasta. However, now he wants to build his own flour production line to produce wheat flour for sale. (Read more: Wheat Flour Mill Cost >>)

According to his requirements and the investment cost of the flour mill, we recommended him to buy our new small wheat flour making plant, which consists of a combined cleaning machine, a wheat wetting machine, a M6FX-40 roller mill and a packing machine.
Main Technical Parameters
MODEL

CAPACITY (KG/H)
POWER (KW)
WEIGHT (KG)
PACKING (MM)
M6FX-35
350-400
560
3250*1500*3200
M6FX-40
400-430
600
3250*1500*3250
M6FX-50
450-500
810
3500*1300*3100
Inspection Photos of 20TPD Wheat Milling Machines
3 Steps to Develop a Complete Business Plan for a Wheat Milling Plant
Before the client is ready to invest in designing the wheat flour production line project, we will provide some free design drawings and solutions based on the information and give some technical guidance.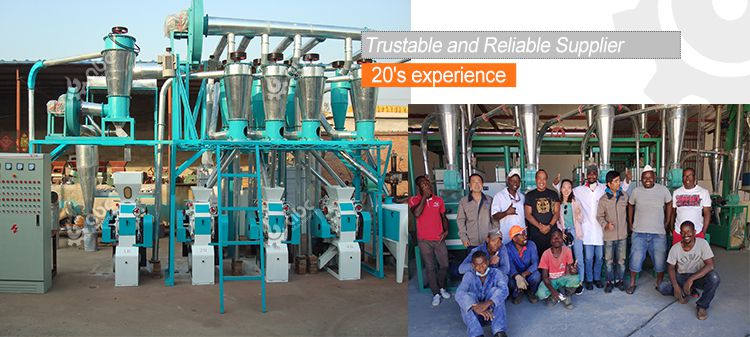 Cost-effective Wheat Flour Production Plant Layout Plan Design by ABC Machinery
Step1 Complete the wheat flour milling plant house design
Analyze the market and choose the location: Conduct a market survey on local edible flour mills. If you intend to invest in establishing your own edible flour milling plant, you need to understand the uniqueness of your specific plan compared to the existing players. Use your revenue projections to select the most attractive market segments in the area by determining the base market share you can achieve.
Step2 Familiarize yourself with the wheat flour mill processing process
Wheat flour mills mainly include cleaning, wetting, milling, and baling processes. Familiarizing yourself with the wheat flour production process is an important step in preparing to invest in an edible oil flour mill.
Step3 Focus on factors affecting price and cost
It is important to plan to buy large quantities of vegetable, peanut and soy materials during the harvest season to get the best prices. In your business plan, explain your material sources and potential suppliers after you have conducted a market assessment.
Wheat milling plant machinery costs.
A business plan for investing in wheat milling production will focus on plant and equipment, as you will need to invest in the maximum outlay for the initial cost of purchasing high-quality equipment to obtain high-quality wheat flour. You can also invest in custom equipment to meet your needs, which will require more investment, using expert advice on the wheat milling machinery you need before setting a budget.(Read More: How to Maintain Your Own Home Flour Mill Equipment)
Mini Wheat Flour Milling Production Line Video
20TPD Mini Wheat Flour Mill Set for Sale to Lebanon - Buy high quality wheat flour mill for wheat flour making: hot mini wheat flour mill from wheat flour mill manufacturer or supplier, wheat flour production process guide and how to operate to start wheat flour processing business in Tanzania, Egypt, Morocco, Ghana, Korea and more at limited cost.
Get In Touch
We receive enquiries in
English, Español (Spanish), Русский язык (Russian), Français (French) and العربية (Arabic)
. Our professional team will reply to you within one business day. Please feel FREE to contact us!