Commercial Investment: The Secret of Start a Wheat Flour Mill Business
Why an increasing number of commercial investors are turning to wheat flour mills and reaping the benefits easily? Wheat is the largest grain crop in the world, and is widely distributed all over the world, from near the Arctic Circle to around the late, from the basin to the highlands. Besides, wheat is mainly used to mill flour to make bread, buns, biscuits, noodles and other foods, which are rich in nutritional value. How do you solve the problem of not having a project when you are trying to earn money? Learn the following 4 steps to help you take care of setting up a commercial wheat flour mill business.

How to Start a Commercial Wheat Flour Milling Business
Under the Epidemic,What Happens to the Wheat Flour Market?
In recent period, how much impact is there on flour milling companies involved in our daily necessities influenced by the new coronavirus? In fact, for flour enterprises, they have their own characteristics and advantages and are expected to be much less affected.
On the one hand, people are reducing going out and so on, and the consumption of flour and noodle products has increased, and even the pasta in large commercial supermarkets in some places is often purchased empty.
On the other hand, people are reducing going out and so on, and the consumption of flour and noodle products has increased, and even the pasta in large commercial supermarkets in some places is often purchased empty.the current global flour processing enterprises are highly mechanized and automated, requiring less manpower, whether it is a large processing enterprise, or small and medium-sized wheat flour processing enterprises with a daily processing capacity of about 500 tons, the production line now requires much less manpower, and a processing link will be satisfied by 1-2 people. Due to the simple production process, wheat flour production lines are not expensive.
To sum up, whether it is a large wheat flour processing plant or a small and medium-sized wheat flour production plant, it is a profitable thing to invest in the establishment of your own wheat production plant project. For more information about the price of flour production lines of different sizes, please ask our professional salesmen for prices!

How to Start a Wheat Flour Milling Business for Commercial Purpose?
The demand for wheat flour in the international market is huge, so if you are interested in starting a wheat flour mill project investment, here is a complete business plan for a wheat flour milling plant. It is useful to consider these 4 steps at the beginning of the project.
Step 1 Market Analysis and Wheat Flour Milling Plant Site Selection
Choose the right production site. For flour processing equipment, want to obtain high returns, reasonable arrangements for production sites is very important, according to the manufacturer's recommendations to choose the right site to protect their own earnings.
Learn about the power of the corresponding configuration of the flour processing equipment, size, so as to determine the daily production costs, while having an understanding of the size of the equipment, in order to correctly establish the plant, to facilitate the production needs.
Top 10 Wheat Flour Milling Production Countries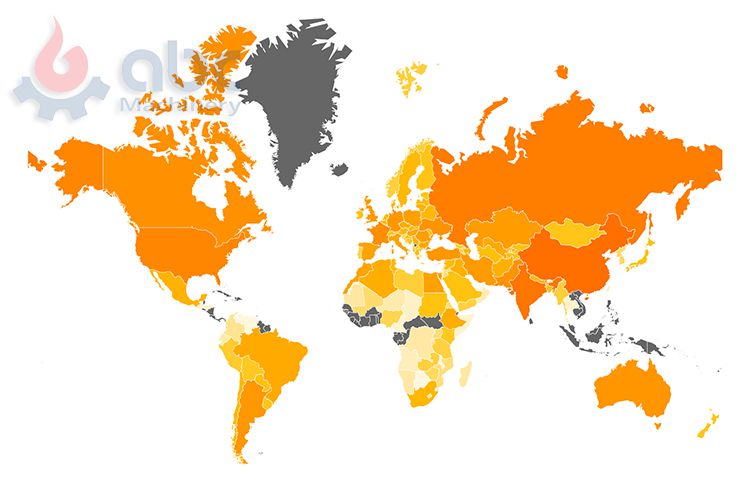 World Wheat Flour Processing Production Market Map
| Rank | Country | Capacity | Rank | Country | Capacity |
| --- | --- | --- | --- | --- | --- |
| No.1 | China | 134,340,630 tons | No.6 | Australia | 31,818,744 tons |
| No.2 | India | 98,510,000 tons | No.7 | Canada | 29,984,200 tons |
| No.3 | Russia | 85,863,132 tons | No.8 | Pakistan | 26,674,000 tons |
| No.4 | the United States | 47,370,880 tons | No.9 | Ukraine | 26,208,980 tons |
| No.5 | France | 36,924,938 tons | No.10 | Germany | 24,481,600 tons |
Step 2 Wheat Flour Mill Selection
After determining the location of your wheat flour, you now need to choose the right machine, because choosing a wheat flour machine is very crucial in this wheat flour production process. You can find many brands of wheat flour machines in the international market, compare the price and feedback from industry insiders before deciding whether to place an order. this machine from ABC Machinery should be the best wheat milling machine to produce high quality flour.

M6FY Model Single Wheat Flour Milling Machinery
A wheat flour production line can produce up to 100T/D with prices starting at only $30,000. To customize the equipment to your actual situation, please feel free to contact us for more details and a free quote on wheat flour processing equipment.

Step3 Installation and Commissioning of the Wheat Flour Milling Machinery
After choosing the location and purchasing the machine, the next step is to set up the wheat flour milling machine correctly and make it work properly.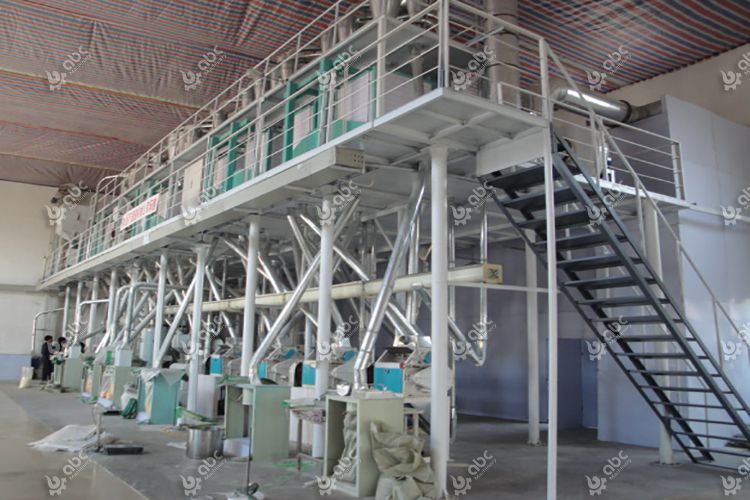 100T Wheat Flour Plant in Somaliland
Step4 Wheat Flour Production after the Sales Network
It is important to get the best distribution network for the production operation of a medium to large wheat flour milling plant. This way, you can get the best channels to deliver your flour to your customers.
How much does wheat flour milling equipment cost? Wheat flour mill quotation is closely related to the customization of the whole milling production line. As a professional manufacturer, ABC Machienry customize exclusive selection and configuration program for customers, pre-sales to understand the grinding fineness, capacity, equipment installation area and other information, customized selection program, to provide a more scientific equipment quotation.
Video: Wheat Flour Milling Production Factory Layout Design
ABC Machinery's sales staff will recommend reading flour industry information and familiarizing you with flour industry product technology to assist you in selecting equipment without asking for help.
Get In Touch
We receive enquiries in
English, Español (Spanish), Русский язык (Russian), Français (French) and العربية (Arabic)
. Our professional team will reply to you within one business day. Please feel FREE to contact us!