How to Make Maize Flour at Home
Maize / Corn is known as longevity food. It has rich protein, fat, vitamins, trace elements, cellulose and polysaccharides. It has great potential for developing foods with high nutritional and biological functions. Not only the main source of human food, but also has become a popular health food,and it often appears on the table and is popular in the European and American world. In the United States and other developed countries, corn has been listed as the first health food in cereals, and is known as "golden crop"!

How to Make Maize Flour at Home
Due to the increasing demand for healthy and nutritious food, the market size of maize noodles is expected to increase. Convenience food is another key indicator of market growth. Therefore,the demand for gluten free products by healthy consumers has also increased demand for baked rice noodles made from corn flour.
ABC Machinery is a large grain processing equipment manufacturer and supplier in China. We have advanced maize milling machines that are sold at factory price, and we boast strong capacity to set up complete maize flour/grits processing plant projects.
How to Make Maize Flour at Home? What Equipment is Needed?
Maize is always a staple food in many countries, like
Mexico
,
Nigeria
,
South Africa
, and more. So, starting up an automatic flour mill plant for business would be profitable in many regions. Therefore,it is possible to open and
start up a household maize flour mill
. But,
how to start up your own small scale maize flour mill
? Where to get the required maize flour milling machine? Next we will take you step by step to learn the home flour mill.
Hot sale maize / corn flour mill machine
Simple and Cheap Home Use maize flour Making Mill
Home Use Small maize flour Mill
This mini maize flour adopts
cleaning equipment
and
screw conveyor
. It can be easily installed and operated at home by yourself.So, it is a good choice for many mini farms or home scale farms. We have grown into the leading manufacturer in China due to the high quality equipment, excellent service and good reputation.
If you want to learn more information about our equipment,please contact us!

Maize/Corn flour mill machine process
Generally speaking, the complete equipment for maize flour making requires several equipment and processes, which is not only applicable for home or farm use, but also suitable for commercial maize flour mill plants. The operation steps are as follows.

Processing of samll scale maize/corn flour mill machine
Sieving and destoning:

Maize kernels are fed from the material inlet and then they are transported by the bucket elevator into De-stoner. Firstly,they go through sieving, the sand or other impurities will be screened out and discharged. At the same time, above the sieve, it is connected with a fan. The function of the fan is to suck those light impurities still mixed in maize kernels; such impurities will be eliminated by the function of centrifugal sedimentation.

Peeling and crushing:

After cleaning, maize kernels go out the outlet and are delivered into a screw conveyor. Then, maize is delivered into Dampener. In the dampener, maize kernels and water are fully stirred and mixed. Those maize kernels that meet dampening requirements will be delivered again by the elevator into a storage barrel for temporary storage, whose purpose is to make sure the feeding flow in the next step is even.

Grinding:

After the corn kernels come out, they are put into the pulverizer for preliminary crushing to separate part of the corn husk from the embryo. The broken corn is fed into the embryo selection machine by elevator. Inside, the corn husk and embryo are separated and discharged from different outlets. In the process,grind,crush and select repeatedly.

Maize/Corn Flour Mill Machine
packing:The maize flour milled by maize flour mill machine is sucked by Suction Fan and delivered into Double Bin Sieve for sieving, and the maize flour that meets standards will be ejected by Suction Fan for weighing and packaging.(Read more:Corn/Maize Flour Milling Machine & Process & Cost)
Maize flour mill machine processing projects by ABC machinery
ABC Machinery is China's largest grain and oil processing equipment manufacturer and supplier. We are a comprehensive enterprise that specializes in the production of complete sets of Flour Mill Machinery, the main products are large fully automatic flour mill plants, small flour milling machine, chilli powder making machine, grain grinding machine, grain cleaning equipment, etc. We believe we are your indispensable partner to set up flour mill business.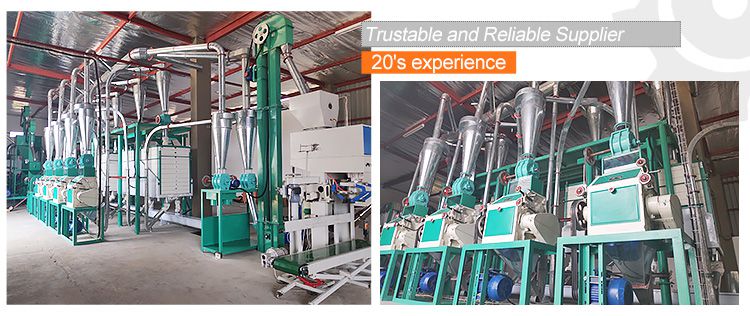 20TPD Flour Mill Plant Supplier
Choosing us, you are guaranteed high quality and factory price equipment. More importantly, our expertises in setting up flour mill projects will help you lower the cost greatly. Welcome to contact us directly to get the business plan, free quotation, equipment selection guidance, factory design, employees training, etc.
Homemade Maize Flour Machine for Sales
In fact, for farms, a simple maize flour unit can not only solve the problem of maize flour production, but also made for wheat and beans.The unit has a high rate of return, allowing farmers to have extra income.
So just tell us your needs and requirements, we believe that we can offer the BEST solution to satisfy you!
Get In Touch
We receive enquiries in
English, Español (Spanish), Русский язык (Russian), Français (French) and العربية (Arabic)
. Our professional team will reply to you within one business day. Please feel FREE to contact us!