How to start the Best Maize Milling Business Plan
ABC Machinery is a professional flour milling equipment manufacturer and supplier in China, offering not only mini corn grinding mill, maize grits milling machine and small-scale maize flour production unit at factory wholesale price, but can also help you build a customized complete maize milling plant with a limited budget.


How to Make a Best Maize Milling Business Plan
In maize/corn milling, up to 80% of costs are caused by equipment investment or factory construction. Our maize milling machine and tailor-made maize milling business plan are therefore designed to produce high-quality products and maximum yields. If you increase yields by even a fraction, it goes straight to your bottom line. (Read more about Maize Flour Milling Machine Process and Cost >>)
5 tips for Starting a Maize Milling Business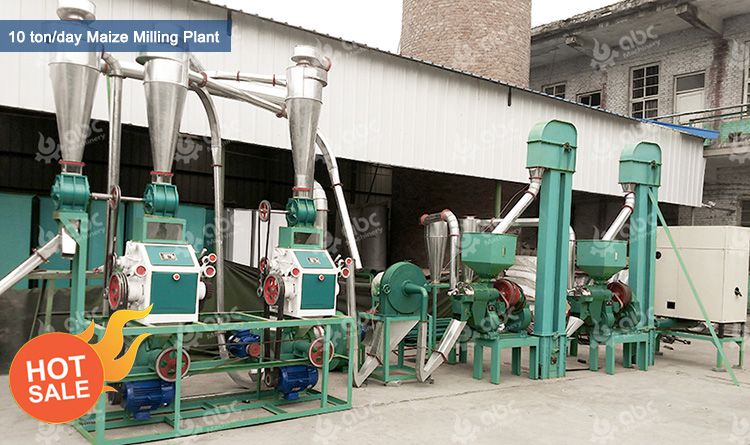 10TPD Best Maize Milling Machine for Small Flour Production Plant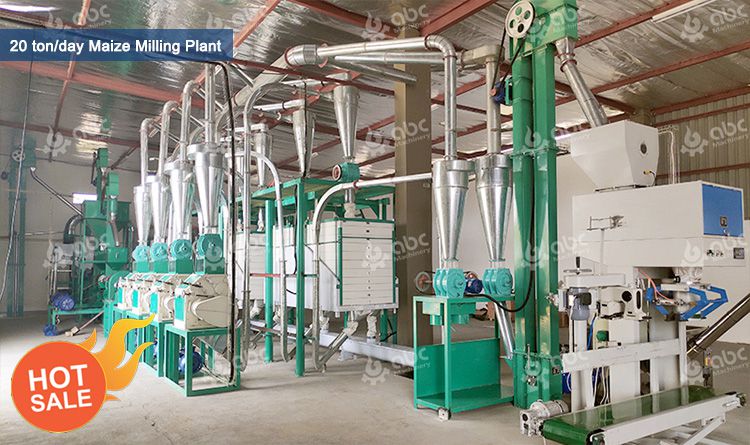 20TPD Commercial Maize Milling Machine
[Contact Us to Get Customized Business Proposal on Maize Production]
Step1. Find the Right Place for Your Maize Milling Company/Factory
It is important to choose the place and the building you will use for your maize milling business. If the place is in the wrong area or not easily accessible, it will be difficult for your business to conduct. When choosing the place, please consider your basic needs, such as water and electricity, as well as your building size and storage needs. Silos may be considered to store raw maize and the final products. And the security and accessibility of suppliers and deliveries are also taken into consideration. Before you start your business, you have to make sure your building meets local quality and safety standards.
Step 2. Determine the Corn Seeds Sources for Flour Mill Production
Once you have researched your local maize or corn flour production market and get what the demand is, you should determine the suppliers of corn seeds. Will you grow and supply maize, or buy maize from other maize growers? You should collect enough information if you plan to buy maize from other sources.
Step 3. Choose the Most Suitable Maize Milling Equipment, Process Design and Best Facotry Layout
Before work on your business plan for running a maize milling plant, you need to know the capacity of the maize mill factory. The quality of flour milling machine will directly determine the quality of the maize flour and the output of the maize processing plant. ABC Machinery has a wide range of affordable, high quality flour mill machines for both small scale maize milling machine and industrial large scale maize mill plant. Don't hesitated to contat to get competitively price. (Related Article: Factory Price Maize Flour Milling Machine for Sale)
Step 4. Register Your Maize Mill Business
You need to register your maize grinding mill business with the relevant authorities in your country/region before you start your corn processing business legally. During this flour milling process, you will need to choose a name for your factory or company.
Step 5. Market and Sale of Maize Flour Products
Your target consumers will determine how your products are packaged and marketed. Do you sell wholesale, or retail directly to consumers? Do you need to advertise, or do you target steady customers ahead of time? Knowing this will also determine what kind of delivery shipping you need and how much you should budget for it.

Kindly click here to check the different flour milling equpment we have >>
If you are planning to start your maize milling business or build your own flour mill company in Uk, Tanzania, Kenya (), Uganda, Zimbabwe, Malawi, or other countries, but don't know where to begin, what types of maize milling machine to choose, how to design the maize milling process, contact us now to get professional suggestion!
Samples of Maize Milling Business Proposal
With a good business plan, you can easily get funding to start or scale up, you get this reasonable maize production plan at an affordable price and save more money for your business, and you can also avoid many unnecessary mistakes.
Contact and tell us your needs, then our project engineers can help you!
Here are some guides about business plan for maize milling plant for reference.
Hot Sale Small-scale Maize Milling Machine Unit for Beginners


Run a Mini Scale Maize / Corn Milling Plant
Use the simplest way to feed automatic, realize continuous milling, and greatly reduce the labor intensity of workers;
Pneumatic conveying reduces dust and optimizes the working environment;
The use of a high-speed miller greatly improves the production efficiency;
The machine adopts three-roller feeding, and the material flow is smoother;
Simple operation and maintenance, small investment, and quick return, it is a piece of ideal equipment for making a fortune;
Related News: 30TPD Maize Milling Plant Arrived In Congo
Market Outlook of Global Maize Milling Business
The world's growing population means there is an increasing demand for staple foods. For many entrepreneurs, small-scale maize processing is a profitable business opportunity. Small-scale maize processing factories can quickly grow into large commercial mills, supplying not only locally but regionally as well. Once you've raised money to invest in a small milling factory, you'll need a well-thought-out business plan before you can start turning maize into a profitable maize meal.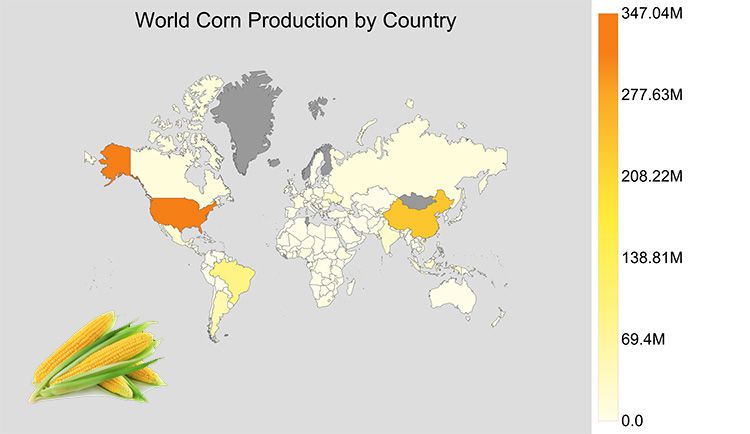 [Market Report] Word Corn Production by Country
Brief Maize Milling Market Analysis
The maize processing market size was valued at $15.73 billion in the year of 2021 and is expected to reach up to USD 29.39 billion by 2026, growing at a CAGR of 8.2% during the estimated period 2022-2027.
Global Top 10 Maize Production by Country (Tonnes)

No.01
United States
333,010,910
No.06
India
17,300,000
No.02
China
163,118,097
No.07
France
15,299,900
No.03
Brazil
51,232,447
No.08
Argentina
13,121,380
No.04
Mexico
17,629,740
No.09
South Africa
12,050,000
No.05
Indonesia
20,202,600
No.10
Ukraine
10,486,300
Successful Project Report Display: Maize Flour Mill Plant
The corn flour production market size is expected to observe development owing to increasing interest in wholesome and nutritious food items. The focus on corn-based nutritious foods, including tortilla chips, tortilla chips and tortilla shells, will therefore help the project market. Demand for convenience foods is another key indicator driving the market. Surging demand for gluten-free options from health-conscious customers has boosted interest in cornmeal-assembled baked goods.
Get In Touch
We receive enquiries in
English, Español (Spanish), Русский язык (Russian), Français (French) and العربية (Arabic)
. Our professional team will reply to you within one business day. Please feel FREE to contact us!