Soy Protein Isolation Production Line Cost
The Purpose of Soy Protein Isolate Production
In recent years, the establishment of soybean protein Isoation plants has become a popular commercial investment project in the international market. At present, Europe, the United States, Japan and other countries are in the leading position in the development of soybean protein isolate technology, which uses high-tech production technology to remove soybean oil and water-soluble non-protein parts from dehulled soybeans after its protein purity is extremely high. With the increasing awareness of health, many people have begun to pursue a high quality of healthy life, which can cause appetite, without adverse side effects, and rich in nutrients. It is recognized as a green and healthy nutritional product.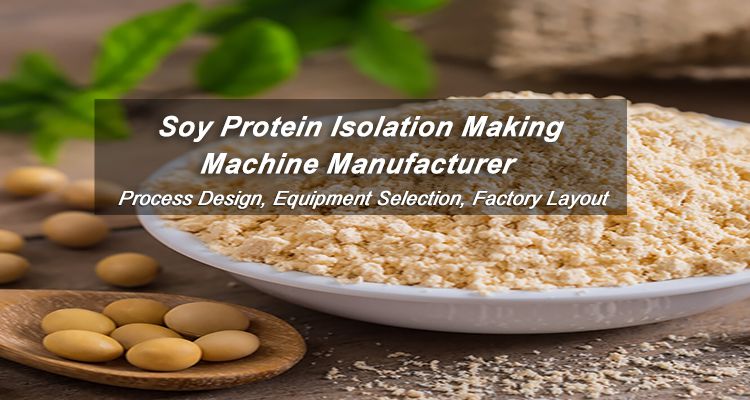 How to Start a Soy Protein Isolation Plant Business
Soy protein isolates, or also known as soy protein isolates, are the most concentrated form of commercially available soy protein products. They contain more than 90% protein on a moisture-free basis. Soybean isolate protein powder contains a large amount of vegetable proteins that are absorbed by the body and can be broken down into a variety of amino acids, which serve to strengthen muscles, blood, skin and other organs, restore body functions, and also have the effect of strengthening resistance. Therefore, a growing number of investors are interested in establishing soybean isolate protein production plants! (Read More: Characteristics And Application Of Soy Protein Isolate )

Successful Project: 100Ton Per Hour Soybean Protein Isolate Production Business Established in Uzbekistan
Production scale:
100 tonnes per day soybean pre-treatment and dehulling production line
80 tonnes/day soybean low temperature solvent extraction line
Processing line with an annual capacity of 6,500 tonnes of SPI (50 tonnes/day of low temperature meal)
10T/day (food grade) dietary fibre production line
Water treatment water production: 50T/H
Boilers divided into 2 tons, 4 tons, 20 tons
Material: Non-GMO soybean material
How much does it cost to invest in a 100 ton per day soy protein isolation plant for commercial purpose? To customize the equipment to your actual situation, please feel free to contact us for more details and a free quote on soy protein isolate processing equipment!

What is the Process for Producing Soy Protein Isolates?
The project for 100TPD soy protein isolate production line is organized into seven major workshops. Soybean meal pretreatment, solvent extraction, storage of soybean meal,wet protein area,dry protein area,dietary fiber,water treatment and boiler(solvent storage room and hydrochloric acid room).
Soybean Meal Pretreatment Process
Cleaning→conditioning→peeling→softening→pressing are all steps in the soy pretreatment process.This technique is intended to remove contaminants and hulls from soybeans in order to properly prepare them for soybean meal extraction.

Soya Meal Pretreatment Process in SPI
Low-temperature The Extraction of Soybean Meal
Low-temperature soybean meal extraction, desolventizing, evaporation, solvent recovery; and other procedures are all part of this process. Low-temperature soybean meal is generated as a result of this technique.Pre-treated soybeans are fed into the solvent extraction tank to produce low-temperature soybean meal and crude soybean oil.
Soybean protein extraction equipment includes a sophisticated drag chain extractor:a stainless steel grill,variable frequency speed regulation at the intake and exit,automatic feed level control,steady output,low residual oil,and low solubility.
Low-temperature desolventizing is using the world's most sophisticated technology:the A+B tank desolventizing process.
This process produces low temperature soybean meal with a high NSI(nitrogen solubility index),uniform and complete flakes, full desolventizing action, and energy savings.

Low-temperature Produce the Soybean Meal in SPI
Section on Soy Protein Extraction
The initial stage is extraction and dissolving. Using the solubilization property of soybean protein,low temperature defatted soybean meal is soaked in a weak alkaline aqueous solution(NaOH)to extract soluble protein and low molecular sugar;and then insoluble fiber and solid residues are centrifuged to separate.
In the second stage,acid precipitation,aqueous hydrochloric acid was added to the dissolved protein solution to alter its PH, and the precipitated protein gel was centrifuged.
The third stage is to neutralize.homogenize,sterilize,and spray dry.To get a powdered soy protein isolate product,the separated protein is homogenized, sanitized, vacuum flash evaporated and compressed,then spray dried.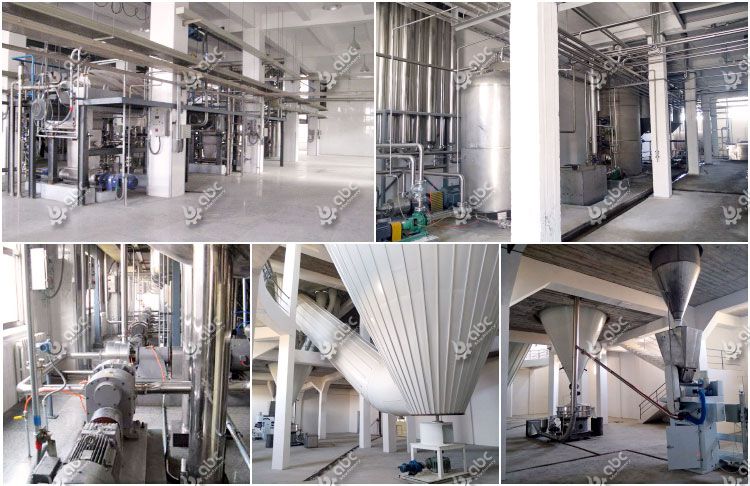 Soya Protein Isolation Process Plant
Process Characteristics
1.The stainless steel component in touch with the substance
2.To prevent stratification,the reaction tank employs a novel stirring structure.
3.The computer regulates the water,lye,and acid ratio.
4.A distinct sterilization procedure is used to avoid protein denaturation.
5.To save operating costs,the drying tower employs a high-pressure hot air furnace.
6.Air filtering that is unique to maintain clean air and prevent bacteria overload
7.Important sections are automatically regulated to increase the process's stability
8.Monitoring is used throughout the system to avoid material loss during manufacturing.
How much does the soya bean protein isolate production machinery cost? Where to buy best cost-effective soy protein separation equipment The quotation for soya protein extraction equipment is closely related to the customisation of the entire soya isolate protein production line. As a professional manufacturer, ABC Machinery customises exclusive selection and configuration solutions for customers, understanding the technology of soybean isolate protein, production capacity, equipment installation area and other information in pre-sales, customising the selection plan and providing a more scientific equipment quotation.
If you are looking for commercial soy protein production equipment selection options and equipment quotations, please feel free to visit ABC Machienry for a visit and inspection!
Get In Touch
We receive enquiries in
English, Español (Spanish), Русский язык (Russian), Français (French) and العربية (Arabic)
. Our professional team will reply to you within one business day. Please feel FREE to contact us!