Types of Wheat Flour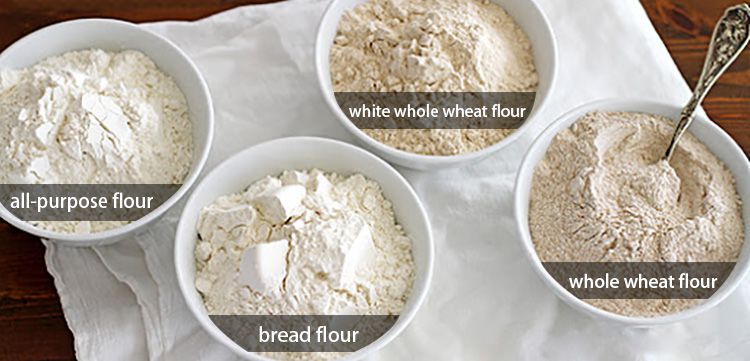 Types of Wheat Flour
Wheat is the third largest grain after corn and rice. There are many different kinds of Wheat flour in the world, and people's demand for flour is increasing. The flour market is very promising today, so it is profitable to set up a wheat flour mill plant. Click the consultation button below, and here will provide a FREE business plan for starting a wheat flour mill factory and suitable equipment recommendations.

Market potential of wheat

Various Ues of Wheat
Cooked Wheat Food: Whole Wheat cereal is a staple food and usually used to produce flour food, such as fermented bread, flat bread, steamed bread, biscuits, cakes, breakfast cereals, pasta, noodles and couscous etc..
Make Wheat Beer:Used for fermentation to make beer, other alcoholic beverages or biofuels.
Raw materials for animal feed and construction: Wheat is grown as a fodder crop for livestock to a certain extent, and its straw can be used as a building material for roof thatch.
Types of Wheat Flour--Related to Wheat Flour Mill Machine
The complete set of wheat flour mill equipment can be adjusted according to the grain size to be processed (such as corn, wheat, etc.) and the different requirements for the thickness of the processed grain to meet the requirements of different users. The dust and sundries falling with the grain particles can be completely removed, the manufacturing cost is efficient, and the energy consumption is low.
Video of Wheat Flour Milling Production Line
If you want to know the detailed animal feed machinery price and parameters, please contact us directly!

Flour is indispensable in our lives. The processing precision of wheat flour refers to the degree of peeling of wheat in the flour milling process. Generally, the higher the processing precision, the better the pink color, and the fewer bran stars. The visual evaluation is usually pink and bran stars. Measured by comparison. The normal pink color of the face is white or milky white. During the storage process, the whiteness of flour will increase due to the oxidation of air.
According to the fine processing in the milling process, how many types of wheat flour can be made? The following table provides you with reference:
Types of Wheat Flour Made by ABC Machinery's Equipment
White flour
The finely ground endosperm of wheat kernel.
Pastry flour
Has properties intermediate between those of all-purpose and cake flours. It is usually milled from soft wheat for pastry-making, but can be used for cookies, cakes, crackers and similar products. It differs from hard wheat flour in that it has a finer texture and lighter consistency. Protein varies from 8-9 percent.
All-purpose flour
White flour milled from hard wheat or a blend of hard soft wheat. It gives the best results for a variety of products, including some yeast breads, quick breads, cakes, cookies, and pastries. All-purpose flour is usually enriched and different bands will vary in performance. Protein content caries from 8-11 percent.
Whole wheat flour
This flour is milled from the entire kernel of hard red wheat either by grinding the whole-wheat kernel or recombining the white flour, germ and bran that have been separated during milling.
The presence of bran reduces gluten development, therefore, items baked with whole wheat flour tent to be heavier and more dense than those made from white flour. The insoluble fiber content is higher than in white flour.
Bread flour
White flour that is a blend of hard, high protein wheat and has greater gluten strength and protein content than all-purpose flour. Bread flour is milled primarily for commercial bakers, but is available at most grocery stores. Protein varies from 12-14 percent.
White whole wheat flour
This flour is milled exactly like whole wheat flour and is nutritionally equivalent to whole wheat flour as well. The only difference is that whole white wheat flour is made with a white, not red wheat variety. The bran of white wheat is lighter in color and has a milder flavor than red wheat and therefore the flour has these properties as well.
Cake flour
Fine-textured, silky flour milled from soft wheat with low protein content. It is used to make cakes, cookies, crackers, quick breads and some types of pastry. Cake flour has a greater percentage of starch and less protein, which keeps cakes and pastries tender and delicate. Protein varies from 7-9 percent.
Gluten flour
Usually milled from spring wheat and has a high protein (40-45 percent), low-starch content. It is mixed with other non-wheat or low-protein wheat flour to produce a stronger dough structure. Gluten flour improves baking quality and produces a high-protein bread.
Self-rising flour
Self-rising flour is a convenience product made by adding salt and leavening to all-purpose flour. It is commonly used in biscuits and quick breads, but is not recommended for yeast breads. One cup of self-rising flour contains 11/2 teaspoons baking powder and 1/2 teaspoon salt. Self-rising can be substituted for all-purpose flour by reducing salt and baking powder according to these proportions.
Successful Wheat Flour Mill Projects-Projects Display
The global milling industry and the equipment manufacturers and service providers that support it are constantly looking for better ways to process wheat into flour and other by-products. ABC Machinery offers complete feed mill construction solutions with advanced technology, efficient equipment, professional installation, complete support and quality service. If you are willing to obtain the flour mill business plan and the price of the equipment, please do not hesitate to contact us!
Get In Touch
We receive enquiries in
English, Español (Spanish), Русский язык (Russian), Français (French) and العربية (Arabic)
. Our professional team will reply to you within one business day. Please feel FREE to contact us!