Wheat Flour Mill Machinery in India
ABC Machinery has been committed to the research and development and production of grain processing machinery. Our equipment mainly covers wheat flour milling, coarse grain processing, grain screening and cleaning, lifting and conveying, environmental protection dust removal and more. We provide complete service for turnkey projects, including plant layout design, equipment selection, project installation and equipment debugging and more. If you are interested in starting flour milling machine, please contact us to get FREE quotation and custom-made business plan.
Wheat Flour Mill Machine at Factory Price
We provide complete set of wheat flour milling machine to meet different capacity of wheat flour production needs. The hot sale wheat flour mill machine has
Wheat Flour Milling Process
Wheat flour milling process is mainly divided into four sections, precleaning, cleaning, flour milling and flour packaging.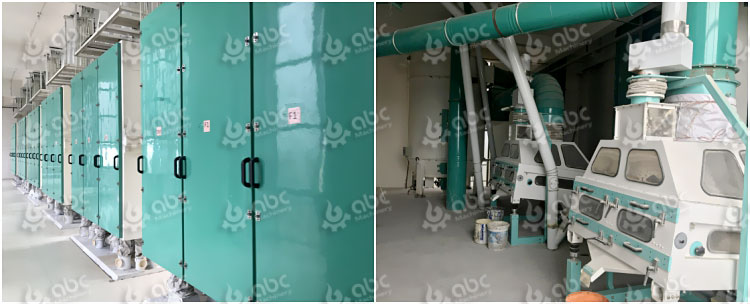 Wheat Flour Milling Process
The raw materials should be cleaned before being loaded into the wheat bin. It is mainly to remove the dust and large impurities.
According to the requirements of wheat milling, a series of cleaning of continuous treatment of raw wheat is carried out, including separation of impurities, such as screening, air separation, magnetic separation, specific gravity separation. Also, there has surface cleaning, including wheat scouring, wheat brushing, wheat washing and more. Generally, it also includes other preparation procedures before grinding, such as wheat matching, wheat moisture regulation, etc
The process is to separate the endosperm from the rind (rind and seed coat) and embryo in wheat and grinding it into a powder/flour. The main wheat flour mill machine in this process is flour mill for crushing and shatter, high pan sifter for flour classification and purifier for purifying and grading of semolina and milling in semolina.
Produced wheat flour can be packaged with automatic packaging machine for sale or storage.

Wheat Flour Mill Machine in India - ABC Machinery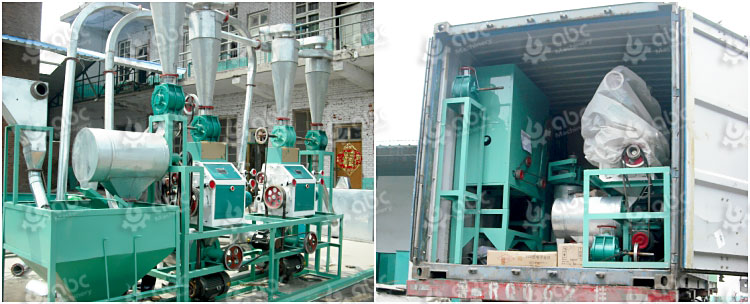 10T Small Wheat Flour Mill Machine
Flour Milling Sector in India
According to Dtm Center for Export Promotion and Study, flour milling sector in India will keep increasing and has great potentials. In India, more than 1,000 flour mill are running. But, the equipment and technology in most of these flour milling plant needs modernization and updated to increase the production capacity and cost so as to raise market share in the world flour milling industry.
India's population is the seventh in the world, but India is located in a good position for agriculture plantation for its great weather. However, the food section of India is not as great as its geographic position. And, most of the wheat flour mill and rice milling plant in India usually adopt cheap and inefficient equipment and techniques and the capacity of most flour mill plant is small size or medium size.
Therefore, the food processing industry of India become attractive for many food processing equipment suppliers. The increasing competition in India force the flour milling plants should take actions to update their technology and equipment through more investment.
Video : 10ton/d Small Mini Wheat Flour Mill Machine Project
Get In Touch
We receive enquiries in
English, Español (Spanish), Русский язык (Russian), Français (French) and العربية (Arabic)
. Our professional team will reply to you within one business day. Please feel FREE to contact us!