Small Size Portable Corn Grinder for You
As we all know that corn has large amounts of nutrition such as carbon hydrate, protein, fat and carotene. Corn flour has many functions of predicting cancer and anti-cancer, reducing the cholesterols in human body and assisting to treat many diseases. With so many advantages, it's necessary to buy a convenient and small size portable corn grinder to live more healthily.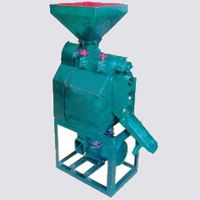 Our portable corn grinder has lots of features that will be inviting for you. It has small beautiful shape and light weight so that it can be arbitrarily moved. It's easy to operate, no vibration and low noise. It's both energy- saving and safe. Our product is designed by ultra-high speed and ultra smooth electrical motor which can grind fine corn flour. It also has a wide milling range which can be used to mill not only corns but also wheat, oats, soybeans, ryes and barleys. The ground materials are clean and the grinder is simple to clean. It's so simple to use that you can use it as soon as after reading the instruction without special personnel training.
In addition, our portable corn grinder is durable and economical which can be used for a long time. It covers little room in your house and can also be given to your friends as economical presents. Your friends will be very glad to receive such a special and considerate present. You can buy one for your old parents too so that it's convenient for them to eat healthy and high quality corn flour food.
We are KMEC, a professional and excellent manufacturer of various grinding machines headquarters in a cultured city Anyang, China. We are here to offer you satisfactory portable corn grinders and reliable after sale service. Are you ready? Take action now!
Get In Touch
We receive enquiries in
English, Español (Spanish), Русский язык (Russian), Français (French) and العربية (Arabic)
. Our professional team will reply to you within one business day. Please feel FREE to contact us!