The Benefits Of Small Size Wheat Milling Machine
The use of flour mills dates back to several years ago. Although now there have been significant changes in the varieties and sizes of these machines, earlier flours were used to be grounded in traditional methods by use of hand tools which involved time and effort. But as time advanced the old methods eventually gave way to sophisticated machines. There are different types of a flour mill, and they include ball and grist mill, etc. Most of these mills are use to grind wheat and other cereals for domestic and commercial purposes, with that said below are the benefits of the small size wheat milling machine.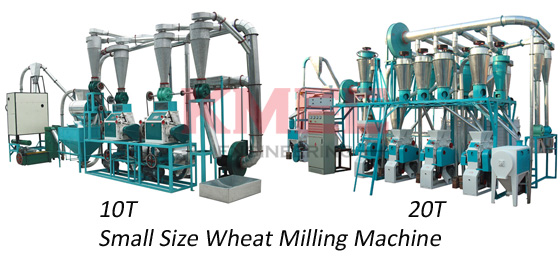 Grind wholesome and healthy wheat flour
One of the benefits that come with the usage of small size wheat milling machine is that it helps in grinding nutritious and healthy wheat flour. Most of the wheat flours that are ready-made contain preservatives and harmful chemicals that might be detrimental to your health and thus grinding of wheat flour by use of these machines will help in retaining their nutritional value.
The use of the small size wheat milling machine is not only cost efficient but also of health benefits. Because the wheat flour that has been grounded at home is rich in fiber and vitamins, whereas the packaged ones are deprived of essential goodness as they are made of fiber and chaff which makes them less nutritional for health.
Another benefit of the small size wheat milling machines is that they are of different sizes and thus you can be able to choose your preferred size depending on the amount of flour that you require. Some of these machines are quite large. Thus, they are suitable for large flour production whereas the small ones are suitable for grinding flours in small quantities.
Easy installation and operation
With the simple structure of the small size wheat milling machine, it becomes easier for you now to be able to install and operate it, as it has easy to follow instructions. Also, this machine enables you to save in your space area because it only covers a small area.
Can be bought from online dealers
Today different types of small size wheat milling machines can be purchased from online dealers. The machines have additional features. Thus, you can obtain them at reasonable rates from various online manufacturers and suppliers.
In conclusion, the above are benefits that come with the usage of small size wheat milling machine. One thing to note is that a flour mill is as one of the most valuable tools that aid in grinding different types of flours, e.g., wheat milling, rice milling, soy and other types of cereal.
Get In Touch
We receive enquiries in
English, Español (Spanish), Русский язык (Russian), Français (French) and العربية (Arabic)
. Our professional team will reply to you within one business day. Please feel FREE to contact us!