Professional Flour Mill Installation Team for Efficient Flour Production Process

Wheat Maize Grains Flour Milling Business
Reliable Commercial Flour Milling Plant Supplier – ABC Machinery
ABC Machinery has been specialized in manufacturing and supplying flour milling machine for wheat, maize/corn and other grains for at least three decades. With the development of market economy and enterprise reform, we have been a leading flour mill manufacturer and has independent R & D, design, production, sales, installation and service team. If you are interested in starting flour milling business or expanding your inefficient flour mill factory, welcome to contact to get custom-made plan to lower your investment cost!


Flour Mill Machine Manufacturer

Efficient and Hot Sale Flour Mill Plant Project Report
We boast strong capacity to undertake turnkey project of wheat flour mill plant or maize flour processing project, ranging from 10tpd~500tpd. Our equipment has been exported to Europe, South Asia, Middle East, South America, Africa, and so on more than 30 countries and regions. Just contact us to get project reports of our flour mill project in your regions!
Importance of Professional Flour Mill Machine Installation Team
Flour milling plant factory has many flour mill equipment, especially for large scale flour mill project. And each equipment is closely contacting with each. In order to improve the work efficiency and improve the quality of the project, the drawings of flour mill plant design should be carefully read and the site also need to be inspected before installation, so as to determine the optimal construction scheme. (Read more: Cost of Setting up a Flour Mill >>)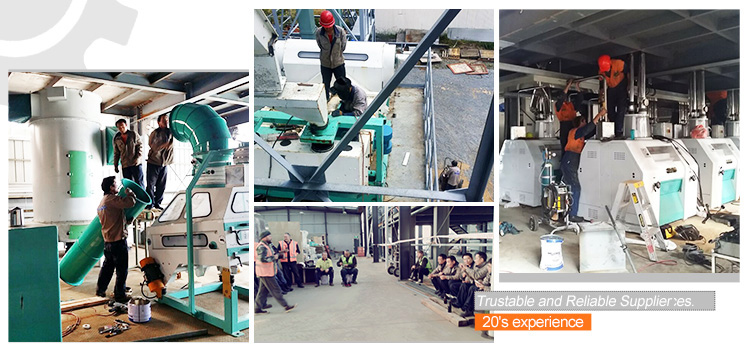 Flour Mill Plant Installation
Onsite installation of flour milling machine should be fully combined with the actual situation of the factory site, rather than blindly according to the design drawings for cutting and equipment layout. At the same time, the construction must pay attention to the safety of personnel and equipment.
In order to reduce the installation cost, many investor or manufacturer will choose the cheap installation team, not the right installation team, which will definitely cause inefficiency of the flour mill plant. ABC Machinery not only provide high quality flour mill machinery, but also take in charge of the installation and commissioning task. If you are interested, welcome to send us massage for more detailed technical information!

Professional Overseas Flour Mill Plant Project Onsite Installation
Offer turnkey flour mill project installation and commissioning service – factory price flour mill machine for flour milling business: buy flour mill machinery from grain processing equipment manufacturer or supplier at factory price, get FREE technical instruction of flour mill plant installation and commission process and business plan to set up commercial flour mill project in Kyrgyzstan, Pakistan, Bangladesh, Uzbekistan, Saudi Arabia, etc., at low cost.
How to Debug New Flour Milling Machine after Installation?
Before starting the flour mill machine, the driving belt and safety protection device should be carefully checked, the fasteners of each part should be checked for looseness, the bearing and gear should be checked for tightness, the granary and the mill should be checked for foreign bodies, and the large belt pulley of the mill should be rotated by hand to check whether the vibration is normal. (Read more: Wheat Flour Machine Price >>)


Start Flour Milling Machine
Start the Motor: Start the motor and check whether the steering is correct and whether the rotation is normal (Note: it is forbidden to close the machine under the condition of materials and empty grinding roller). If any abnormality is found, stop the machine for maintenance immediately.
Trial Bran Grinding: After the installation and commissioning of the new flour mill, the bran should be used for trial grinding for not less than 30 minutes. After the mill is cleaned, the normal wheat flour processing can be started. Adjust the flow according to the material particles to adjust the small handle, so that the flow of each process is appropriate.
Start the Fan: Start the fan first when working, and then start the mill after the fan is running normally. When starting the main engine, the roller must be in the disconnecting position, and the roller can be run in after the feeding is normal.
Get In Touch
We receive enquiries in
English, Español (Spanish), Русский язык (Russian), Français (French) and العربية (Arabic)
. Our professional team will reply to you within one business day. Please feel FREE to contact us!