Automatic Wheat Flour Mill Machinery for Sales
Wheat flour is the staple food in many countries and widely used in food industry. With the development of society, many flour mill plants are setup to produce high quality wheat flour. But, the demand for wheat flour is keeping increasing, which indicates that there are still great opportunities to start flour milling business. In order to gain profits from the wheat flour mill plant, it is highly recommended to adopt automated wheat flour mill machinery. (Read more: Flour Mill Machine for Small Business >>)


Wheat Flour Milling Business
What is Automatic Wheat Flour Mill Machinery?
Fully automatic flour mill plant is used all over the world to convert grains into their powdered form. Bread, pasta, muffins, and cakes that we eat, all use the flour that comes out of these flour milling machine. So, without them, we might not be able to make these delicious foods.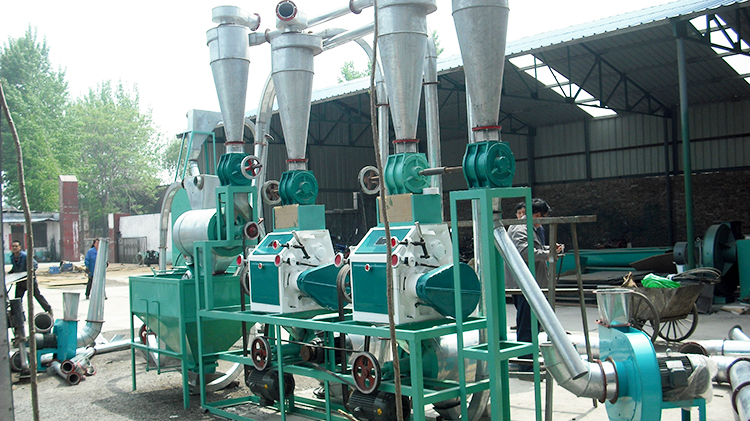 Mini Automatic Wheat Flour Mill Machine
Automatic wheat flour mill machinery is easier to use and operate as compared to manual or traditional machines. Almost everything is controlled automatically in them and there is no need for a large number of operators or laborers for these machines. It produces flour of different grain sizes as per the buyer's requirements. In addition, with the development in flour milling technology, the price of automatic flour mill machinery is cheaper than before.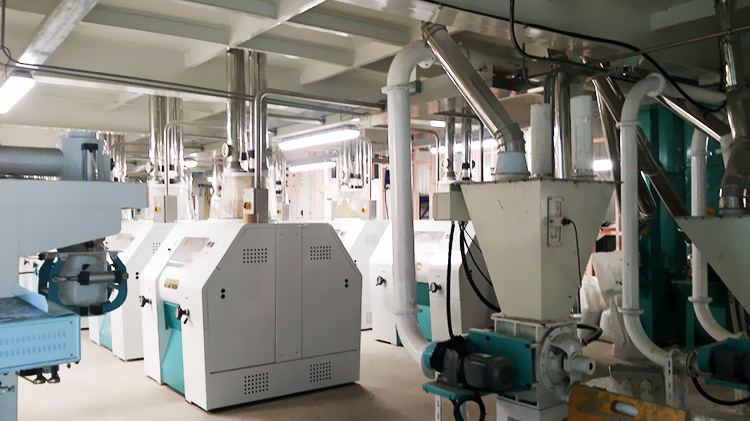 160TPD Fully Automatic Wheat Flour Mill Plant Setup in New Zealand
How Does an Automatic Flour Mill Machine Work?
Operating automatic wheat flour mill machinery requires fewer men power as compared to the traditional flour mill machines. Different sources of power energy can be used to operate it. Its working consists of the following steps.


Automatic Wheat Flour Milling Process
After getting the grains, they are cleaned with the help of a separator to remove dirt, leaves, or any other similar thing. Different techniques can be used in this step based on the things you want to separate. (Related machine: Grain Cleaning Equipment >>)
Now the cleaned grains will be washed and moistened thoroughly. This step is called tempering. It is done to remove the cover of seeds and achieve the endosperm that is present inside and is converted to flour.
Now it will be passed through the separator to isolate the seed kernel from the seed cover. The seed kernel obtained will now be ground into a fine powder with the help of flour grinding machine. Seeds will be ground until desirable particle size is achieved.
In the last step, the flour will be purified more to eliminate impurities if there are any. The automatic flour mill machine is expensive as compared to the traditional flour mill machines. But the feeding and grinding of automatic wheat flour milling machine both are automatic, so it reduces the need to hire more laborers. In it, the temperature is also controlled automatically and is usually kept below 15 degrees Celsius. A higher temperature than this can damage the nutritional value of flour which will eventually reduce its quality.
Automatic wheat flour mill plant is available in variable sizes, designs, prices, and production capacity. You should buy a machine that suits your needs the most. The efficiency of automatic flour mill machines is determined by flour mill manufacturer. So, make sure you do your homework before buying one.
Automatic Wheat Flour Mill Machinery for Sales
Small automatic flour mill machines are a good choice for most home or small scale flour mill. They may not be as automated as large flour mills, but they almost can meet the needs of small scale flour milling business.


Small Automatic Wheat Flour Mill Machine for Sales
Large automatic flour mill machinery features high degree of automation, the whole wheat flour milling process doesn't need too much manpower to operate. And, the final produced flour is of high quality and the production process has high efficiency.


Fully Automatic Wheat Flour Mill Machinery for Sale
The required materials for fully automatic wheat flour mill plant: wheat, flour packaging bags and bran packaging bags. If the beginning and the end prepared, the middle of screening, cleaning, peeling, and other process is automated and don't need manual participation.
ABC Machinery is a leading grain processing equipment manufacturer in China. In these years, we have built many flour mill plant projects around the world. And, we have cultivated a professional team of overseas installation and commissioning. If you are interested in our automatic wheat flour mill machinery, please just contact us to get latest free quotation!
Automatic Wheat Flour Mill Plant Production
Fully Automatic Wheat Flour Mill Machinery at Factory Price – Buy High Quality Automatic Wheat Flour Mill Machinery for Wheat and Maize Flour Milling: HOT Sale automatic wheat flour mill machinery manufacturer or supplier, guide on process wheat flour production and how to start wheat flour milling business with limited cost in Tanzania, Egypt, Morocco, Ghana, South Korea, etc.
Percent Proteln of Varlous Wheat Flour

| | | | | | | | |
| --- | --- | --- | --- | --- | --- | --- | --- |
| Flour | Gluten | Whole wheat (hard) | Durum wheat (hard) | Bread (hard) | All-purpose | Pastry (soft) | Cake (soft) |
| Protein% | 41 | 14 | 13 | 11 | 10 | 9 | 8 |
Get In Touch
We receive enquiries in
English, Español (Spanish), Русский язык (Russian), Français (French) and العربية (Arabic)
. Our professional team will reply to you within one business day. Please feel FREE to contact us!