How to Buy Corn Flour Mill Machine with High Quality?
Making Corn into Flour
Corn is a kind of crop with high nutritional value, also called maize in some area. Through corn product processing equipment, corn can be processed into different kinds of products such as corn grits, corn flour and corn germ oil to meet people's higher living needs. And corn flour is the most common product in our daily life, the used equipment is called corn flour mill machine, which is for hot sale. (Related article: corn flour production process)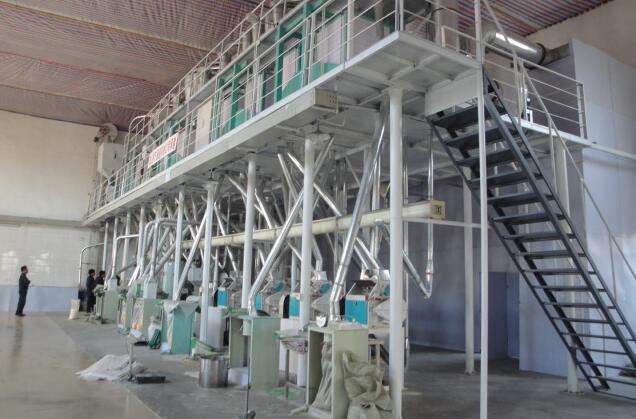 Corn Flour Mill Machines Plant
Wide Applications of Corn Flour Mill Machine
Until today, with the continuous development of global people's life, maize flour milling machine has been widely used in various fields. It can not only process rations, but also produce the raw materials of making livestock and poultry animal feed.
Also, different particle sizes of low-fat corn grits and corn meal can be processed, thus making the corn flour making equipment appear more and more fields including food factory, alcohol factory, liquor factory, brewery, lactic acid factory, corn sugar factory, etc. attracting more investors to invest in this industry. (Related article: flour mill machine for small business)

How to Buy Corn Flour Mill Machine with High Quality?
For buying corn flour processing machinery, we all want to buy good quality machinery, so we need to communicate well with the manufacturer. The use of communication, we can better understand the performance of corn flour mill machine, so that will provide a lot of help to our purchase. (Read more: maize milling business plan in uganda)
The quality and output. Corn flour milling machine quality and yield of ABC Machinery are very good by understanding the performance of machinery, not only the choice of our purchase, but also for our future use, will also be very helpful;

The price. Usually the price of good corn flour mill equipment cannot be too high, otherwise it will affect our costs, if the price is too low, then the credibility of the problem will arise. (See more: cost of setting up a flour mill)

After-sales service. Excellent manufacturers will provide good after-sales service for corn flour mill equipment, can be used in the mechanical damage, our economic interests are protected;
Therefore, when we buy corn flour mill machine, we must communicate with the manufacturer of the above three points of attention, so that we can ensure that we can buy the most cost-effective one. (Rlated article: how to start a maize milling company)

High Quality ABC Corn Flour Mill Machine for Sale
ABC Machinery is a high-tech machinery and equipment manufacturer and supplier integrated with set engineering design, research and development, manufacturing, sales and installation services.
With offering both single flour mill machines and flour milling plant including single corn flour milling machine (350KG/H ~ 600KG/H) and complete unit of flour mill machines (10-160TPD) for processing flour of corn, wheat, soybean and cereals etc. ABC Machinery can always supply the BEST quality equipment, cost and service to meet the requirements from different customers.
Successful Flour Mill Machine Projects We Built
If you have any question about flour mill machine for corn or wheat, you are welcome to contact us for free!
Get In Touch
We receive enquiries in
English, Español (Spanish), Русский язык (Russian), Français (French) and العربية (Arabic)
. Our professional team will reply to you within one business day. Please feel FREE to contact us!