Reliable Maize Processing Equipment Supplier Advantages Your Flour Milling Business
The success of your maize flour milling business highly depends on the quality of maize milling machines that you use during maize flour milling process. The maize milling machine or grinding machine is the main component of any flour mill plant. A good quality machine will not only produce high-quality flour but it will also consume less energy and will give high output. That is why choosing the right maize milling machine manufacturer is crucial to make your business a success.


Maize Milling Business
BEST Maize Milling Equipment Manufacturer - ABC Machinery
As a leader of the manufacturing in flour milling equipment, ABC Machinery has fully grasped the quality and technology of maize flour milling. With over 20 years of project experience, we can provide you with advanced engineering solutions in maize processing. ABC Machinery has single maize grinding machine and complete maize flour milling plant. Generally, the small scale maize flour milling plant with capacity of 5~30tpd is hot sale one.
The maize milling equipment provided by us has the features:
Realize systematic production with short time and high efficiency
Advanced technology and reasonable structure design ensures efficient and durable performance
Can be automatic in the grain production process
Requires small investment and saves energy
If there are any questions about maize flour milling or other grain processing, feel free to contact us and we are pleased to offer you the technical supports and integrated solutions!
Top-picks Mini Maize Flour Processing Machine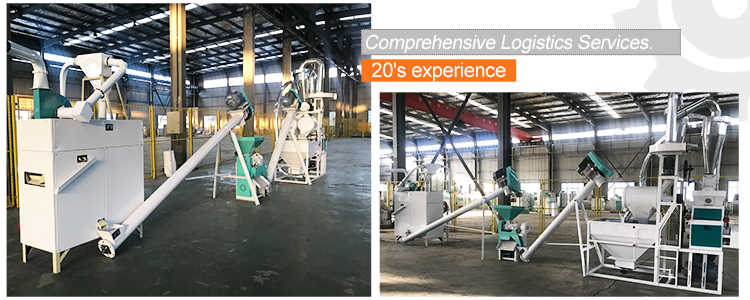 Mini Maize Flour Milling Machine for Sale
Above 5tpd mini maize flour production line is the newly developed maize milling equipment. Since being sold in the market, it has been ordered and purchased by many customers from South Africa, Nigeria, Australia, Kenya, and more. Its outstanding design and stable performance make it the BEST choice for small scale maize processing business. Please contact us to get the latest price list and technical parameters!

Buy Maize Processing Machine from ABC Machinery
How to choose maize milling equipment? – buy high quality maize flour milling machine for flour making business: HOT sale maize milling equipment offered by maize flour milling machinery manufacturer or supplier, guide on process of maize flour production and how to start maize flour milling business with limited cost in South Africa, Tanzania, Egypt, Morocco, Ghana, South Korea, etc.
How to Choose the Best Maize Milling Machine Supplier?
There are numerous flour mill machinery suppliers in the market that claim to provide good quality maize flour milling machines. But not all suppliers provide the standard quality machines. The following are the points that you should keep in mind while choosing the right maize milling equipment manufacturers for your flour milling business. (Read more: Flour Mill Machine for Small Business >>)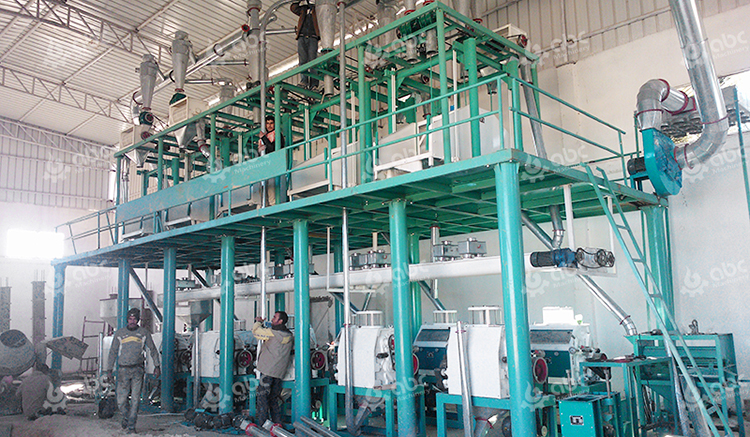 50TPD Maize Milling Plant Supplier
Visit the Market and Understand What Makes a Quality Machine
Before choosing a supplier, you first need to understand the market. You should be aware of the characteristics of a good quality commercial flour mill. This way you will be able to differentiate right from the wrong or good supplier from the average supplier.
Check the Efficiency of Machine
If possible, when you visit a market, test the machine quality of different suppliers. Check how much energy it consumes, what its production capacity is, and how much maintenance it will need. If you can't find the a suitable supplier in your local market, many reliable manufacturers can be found in the international market. They usually will provide equipment testing video for your check. The BEST flour mill machine manufacturers will provide machines that consume less energy and give a high yield.
They Offer After-Sale Services
What separates the best manufacturers from the average manufacturers is they provide after-sale services as well. They will provide you their own workers to install machines or repair it if it gets damaged. They may also teach your workers how to use a machine properly. (Read more: Flour Mlling Plant Installation Service by ABC Machinery >>)
Provides Expert Consultancy
A buyer has many questions in mind regarding the machine they want to purchase. The best manufacturers are aware of such questions and their answers as well. They will try their best to resolve all your queries.
Advantages of Buying Machines from a Reliable Maize Milling Machine Supplier
Getting quality machines from reliable maize milling machine supplier is not the only benefit that you will have. They will also provide you good services and their products at reasonable prices. You will also get a chance to learn a lot from their experience in your market.
| Element | Wheat flour | Maize flour | Soybean flour | Rye flour |
| --- | --- | --- | --- | --- |
| Moisture (%) | 13.90 | 13.70 | 4.80 | 11.60 |
| Ash (%) | 0.49 | 0.47 | 6.55 | 1.07 |
| C. protein (%, N × 6.25) | 10.90 | 4.90 | 31.60 | 7.70 |
| C. fat | - | 0.90 | 0.60 | - |
Generally speaking the processing of maize can be divided into primary processing and further processing, so what is the difference between these two types of processing?

  Pre-processing: crushing and separation techniques to process maize into primary products such as maize meal, grits, germ and starch;

  Further processing of maize: the starch of maize is reprocessed using biotechnology and chemical technology to transform the starch, and the processed products can include: alcohols, sugars, organic acids, amines, modified starch, etc.

Corn deep processing equipment is the processing of corn kernels into corn flour, corn grits, etc. In its working process, one of the more important tasks is the dehulling of corn. Why should this be done?
The reason is that corn embryo and corn endosperm on the corn is wrapped by the skin layer, after dehulling, it is easy to separate the embryo and endosperm, which can improve the efficiency of dehulling; most of the skin of corn kernels will be removed, the production of corn adulterated with less skin, high product quality; corn outer skin, there is a possibility of contamination by harmful substances, grinding after dehulling, is conducive to improving the purity of the product; corn can be used to produce a variety of food, dehulling can improve the edible corn flour The quality of the corn flour can be improved by removing the hulls.
Get In Touch
We receive enquiries in
English, Español (Spanish), Русский язык (Russian), Français (French) and العربية (Arabic)
. Our professional team will reply to you within one business day. Please feel FREE to contact us!