How Does Flour Mills Production Process Works?
ABC Machinery is a leading manufacturer and supplier of various flour mill machinery and offers turnkey solutions for various grain processing, including wheat, maize/corn, rice, cassava, etc. Through these years' development, we have built our own professional team that is specialized in R&D, manufacturing, sales, installation, and other after-sales service.
In order to produce high quality wheat flour and lower the cost of setting up a flour mill, rice flour or maize/corn flour efficiently, flour mill plant will adopt advanced flour milling equipment and systematic procedures in the manufacturing of flour.


Flour Mill Production
For people who is planning to start flour milling business or build up flour mill factory, having a good understanding about the flour mill production process is necessary, which not only helpful when you are choosing flour milling machine suppliers, but also can help to improve the flour milling efficiency.
Wheat Flour Mill Production Process
Here briefly introduces the basic process in wheat flour mill plant. If there are any questions about flour mil plants, please contact us for detailed technical information, we are happy to offer more for your reference.


Wheat Flour Production Process
In the first stage, the wheat grains are thoroughly washed, which is to get rid of any foreign materials that might be present and could alter with the product like the weed seeds, stones or dust particles or can damage the machines used. Then, the washed material is passed through an aspirator to suck clean any substance that is less in weight than the wheat grain and could have escaped the first cleaning stage. (Related Machine: Grain Cleaning Equipment >>)
Physical and Chemical Grading Analysis
Samples of the cleaned wheat are now taken for physical and chemical grading analysis. Then, it is arranged according to the protein content and those with the highest level of protein are mixed together to produce the No.1 grade wheat flour.
Wheat Flour Milling Process
The wheat is ground and arranged according to its content of protein it has. It is ground by being passed through two large metal rollers of flour milling equipment referred to as the breaker rolls. The breaker rolls opens up the wheat grain separating the outer layer with the inner parts. The grinding stage of the flour mills production process results to three levels of substances:
The farina – finest material
Semolina – interior largest particles
The parts that attach to the bran
Then, these pieces are sifted and grinded again using the same procedure to produce several types of flour grades.
Flour mill production processes are taken to ensure the BEST grade flour is produced. Every process is conducted by qualified team who ensures that high levels of hygienic measures are taken.
Standard Working Process in Flour Mill Plant
Hot sale flour mill production plant offered by flour mills manufacturer or supplier, guide on process of flour mills production and how to start flour mill business with limited cost in Tanzania, Egypt, Morocco, Ghana, South Korea, etc.
Setup Flour Mill Production Plant Project at Low Cost
| Raw Materials | Capacity |
| --- | --- |
| Wheat | 80~500 tons per day |
| Maize/Corn | 20~100 tons per day |
Above is the complete large scale flour mill project we can provide. In addition, we also offer single flour mill machine for small scale business, please contact us directly to get the FREE quotation and customized business plan for flour mill production!

How to Setup Flour Mill Plant for Wheat, Maize and Rice Flour Production?
Setting up flour mill plant to produce wheat flour, maize flour, rice flour or other grain flour is very easy if you know how to go about it. This is because there are many people who are not familiar with corresponding flour milling machines, especially in the field of wheat flour mills. The good thing about wheat flour mills is that it is much easier to handle and to maintain than other kinds of flour mills. (Read more:Rice Mill Setup Cost >>)
There are some important things that you need to consider when it comes to wheat flour mill machine setup. One of these is your expected capacity that is one key factor to determine which type flour mill machine you should purchase. This is because there are some wheat flour milling machines that are big and others that are small. In order for you to get the best type of machine you will have to find out the one that is right for your needs.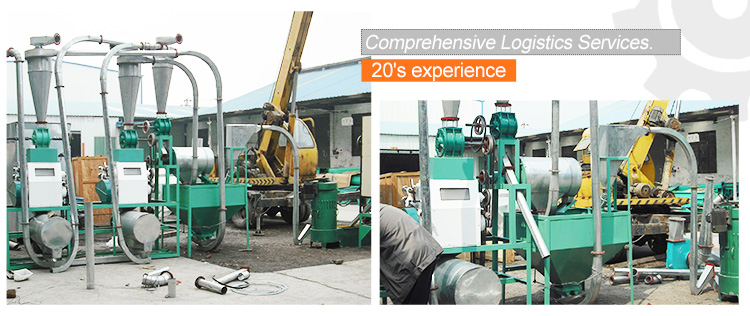 Setup Wheat Flour Mill Plant
Another important thing to consider in wheat flour mill machine setup is the design. This is very important because you do not want to buy a machine that does not suit your needs. It is important that you find out what features that the machine has and the ones that you want as well. It is also a good idea to consider the operating system of the machine. This will help you determine how well the machine can work and run.
If you still have no ideas about how to set up a complete flour mill plant or want to know the specific investment capitals for a mini flour mill, please leave us massages describe your specific requirements, and we will soon offer you the customized plan for flour mill plant setup!
Get In Touch
We receive enquiries in
English, Español (Spanish), Русский язык (Russian), Français (French) and العربية (Arabic)
. Our professional team will reply to you within one business day. Please feel FREE to contact us!