M6FY Wheat Flour Milling Machine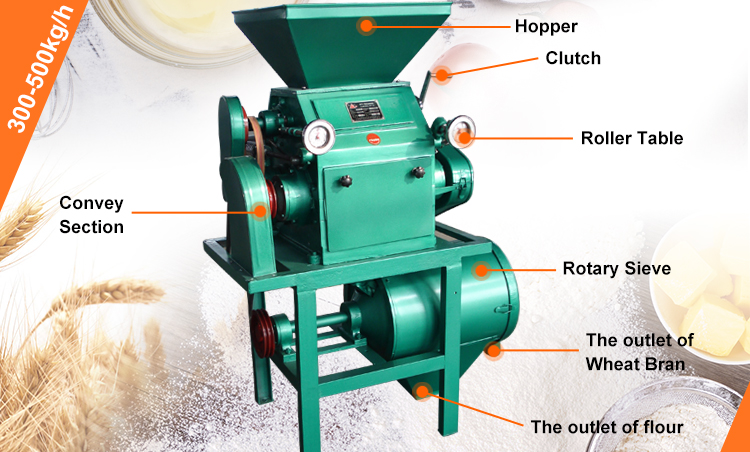 M6FY Flour Mill Machine
Wheat is the main grains for people around the world. The demand for wheat flour is always high, especially for regions where wheat flour is as a staple food. Starting small flour mill business for wheat flour production would be stable and profitable. For small scale investors, our small wheat flour milling machine is a BEST choice to setup a mini/small scale flour mill project and it can greatly reduce your investment cost. (Read more: How to Start a Maize Milling Business?)
M6FY Wheat Flour Mill Machine for Sales
M6FY wheat flour milling machine is basic wheat flour machines for a small scale flour mill plant setup. It adopts integrated grinding design with stable working performance. Its excellent features make it a hot sale flour mill equipment for wheat flour processing. (Related post: Fully Automatic Flour Mill Plant Cost >>)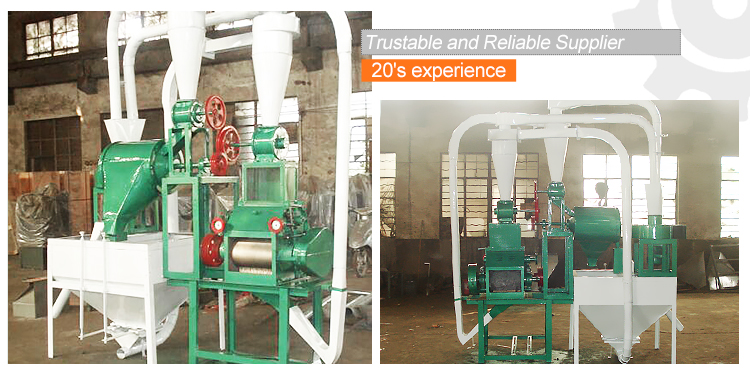 Mmall Wheat Flour Milling Machine
Small floor area, simple operation, high powder efficiency.
It can process wheat, maize/corn, sorghum and other grains into flour
It is suitable for rural wheat mill factory, grain and oil processing shops, hotels, etc. Also, it can be used to set up small scale flour milling plant.

Technical Data of M6FY Small Flour Milling Machine
| Model | Capacity | Power | Weight | Dimension |
| --- | --- | --- | --- | --- |
| M6FY-30 | 300 kg/h | 7.5 kw | 300 kg | 1100*670*1260 mm |
| M6FY-35 | 350 kg/h | 7.5 kw | 560 kg | 1300*750*1430 mm |
| M6FY-40 | 400 kg/h | 11 kw | 600 kg | 1300*750*1430 mm |
| M6FY-50 | 500 kg/h | 15 kw | 810 kg | 1450*800*1500 mm |
Working Video of M6FY Wheat Flour Mill Unit
M6FY small flour mill for sales – factory price wheat flour milling machine for flour making: buy wheat flour milling machine from flour mill machinery manufacturer or supplier at factory price, get FREE technical instruction of wheat flour production process and business plan to set up wheat flour mill project in Kyrgyzstan, Pakistan, Bangladesh, Uzbekistan, Saudi Arabia, etc., at low cost.

Qualified Standard of Small Wheat Flour Mill Machine
Wheat flour is a commonly used food ingredient in daily life. The daily demand is particularly large, so the corresponding demand for flour mill machinery is also great.


Start Wheat Flour Milling Supplier
There are many wheat flour mill equipment suppliers and more types of small wheat flour milling machine for sales in the market, but the quality is uneven. Many people don't know how to buy or where to buy flour mill machine for small business, how flour mill works, and they also don't know if the machine they bought meets the quality standard. So today we will specifically explain what are the quality standard for small wheat flour machinery. If you there are any thing you don't understand, massage us your questions, we will come back to you soon!


Factory Price Wheat Flour Mill Machine
Firstly, small wheat flour mill machinery should meet the following standards:
The delivery time of the complete set of small flour machinery should be within one year, and there must be no errors in basic functions and wheat flour production process.
The amount of flour processed after the rollers are drawn should be within the total roller length (cm) × 460 kg / cm.
When processing first-grade flour, the actual flour extraction rate should not be less than 60%.
When processing second-grade flour, the actual flour extraction rate should not be less than 70%.
When processing standard flour, the actual flour extraction rate should not be lower than the theoretical flour extraction rate by 0.5%.
The processed wheat must meet the third-grade or higher wheat quality specified in GB1351.


Small Wheat Flour Machinery
Finally, in terms of small wheat flour milling machine warranty, the supplier should promise the buyer a certain warranty time and after sales service, so as to better ensure the quality of equipment. Through the above introduction, we hope that everyone can buy the most proper flour milling equipment at favorable price to start or expand heir wheat flour milling business!
Get In Touch
We receive enquiries in
English, Español (Spanish), Русский язык (Russian), Français (French) and العربية (Arabic)
. Our professional team will reply to you within one business day. Please feel FREE to contact us!