Small Commercial Flour Milling Machine Manufacturer
ABC Machinery is a professional and reliable flour mill machinery manufacturer in China. Our equipment for wheat flour milling, corn/maize flour production and cassava flour processing has been exported to many countries. We have successfully built many flour mill projects around the world. If you are interested in buying flour milling machine for commercial purpose, please contact us directly to get more details and categories of our flour milling equipment!

Commercial Flour Milling
One of the liveliest industries is the flour milling Industry. Flour milling is a conventional industry and the use of Flour Mill Machines allows to efficiently produce a variety of flours. The use of a commercial flour milling machine has not only made the entire flour milling process easier but also helps the flour mill business to grow. Advanced technologies of commercial flour milling equipment when combined with the skills of professionals provide an excellent outcome.
10~30TPD Small Commercial Flour Milling Machine
Commercial flour mill machinery enables easy flour milling process for flour milling industries. Small commercial flour mill is a BEST selling type of flour milling equipment on the market since it has incomparable advantages: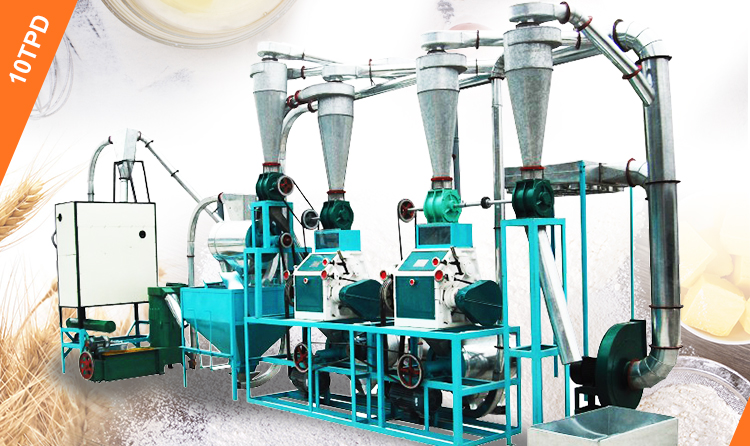 Small Commercial Flour Milling Machine
High Return on Investment
Investing a small amount in setting up a flour milling business can provide a high return. Small flour milling machine is much more affordable and it provides a great benefit in terms of profit. The capital needed to buy a small scale flour mill unit is divided into various categories, which means you can start with a small investment and gain high profit with this business. (Read more: How to Start a Maize Milling Business?)
The commercial flour mill machine comes with advanced features, which again is a great option for your business to grow. Advanced features and the use of technology has made the entire process smooth and efficient. (Read more: How to Start Flour Mill Factory?)
Easy Installation and Operation
The best thing to buy small or mini flour mill plant is that it is easy to install and operate. The machines got the best-advanced features which make it highly efficient and easy to operate. Even a beginner can install and operate this machine without experiencing any trouble.
Compare to large scale flour mill equipment, the price of small scale type is much more cheaper. In addition, the small size takes up less space, so the running cost of setting up a small commercial flour mill plant for wheat or maize would be great lower.
10~30TPD Small Commercial Wheat Flour Mill Technical Parameters
| Type | Capacity | Power | Extraction Rate |
| --- | --- | --- | --- |
| 10TPD Flour Mill | 10 tons per day | 25kw | 75% |
| 20TPD Flour Mill | 20 tons per day | 60kw | 85% |
| 30TPD Flour Mill | 30 tons per day | 85kw | 75% |
Commercial Flour Mill for Sale
Commercial Flour Milling Machine for Sales – Buy High Quality Commercial Flour Mill for Wheat Flour Milling: HOT sale commercial flour milling machine offered by flour mill machinery manufacturer or supplier, guide on process of wheat/maize flour production and how to start flour milling business with limited cost in Tanzania, Egypt, Morocco, Ghana, South Korea, etc. Please just tell us your requirements, raw materials and budget, then, we can quickly offer the customized plan for commercial wheat/maize flour milling factory setup!
Flour Milling Process in Commercial Wheat Flour Mill Factory
As wheat flour milling machine has made the flour milling a lot easier. But still, it is a complex of flour milling process, which includes various steps. Few steps that are included in a wheat flour mill plant for commercial purpose are as follows: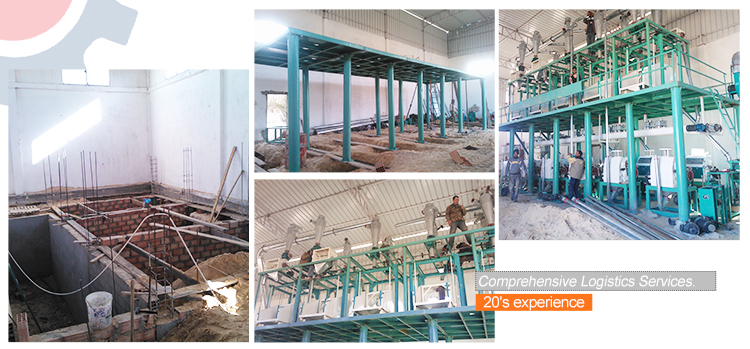 Setup Commercial Wheat Flour Mill at Low Cost
Cleaning of Wheat Grain
The very first step in flour milling using the commercial flour milling machine is the cleaning of the wheat grain. Grain cleaning can be done in different ways using different equipment. such as vibratory, rotatory and sieving machines. The use of respective motions in the machines of grain cleaning equiment helps cleaning the grain precisely.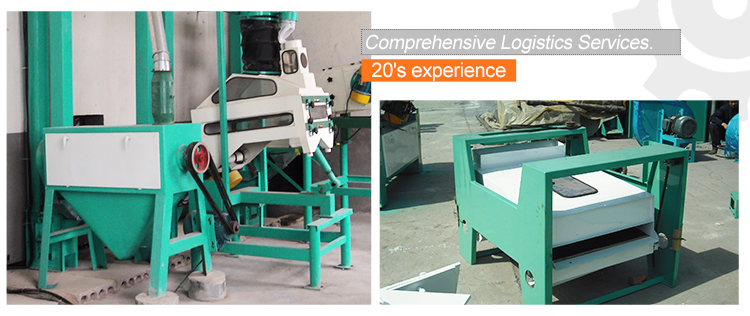 Commercial Grain Cleaning Machines
Tempering and Conditioning
In this step, the cleaned wheat grain is soaked in water to remove the excess of impurities and to separate the bran from the wheat grain. Soaking the grain into the water also provides conditioning, which prevents the outer layer from breakage.
Gristing of Grain
The third step is gristing of the grain and in this step, the cleaned and conditioned wheat is blended. Gristing also refers to grinding, which means it is almost ready for milling. The gistring gives the grain the desired shape or the texture, which is needed for milling.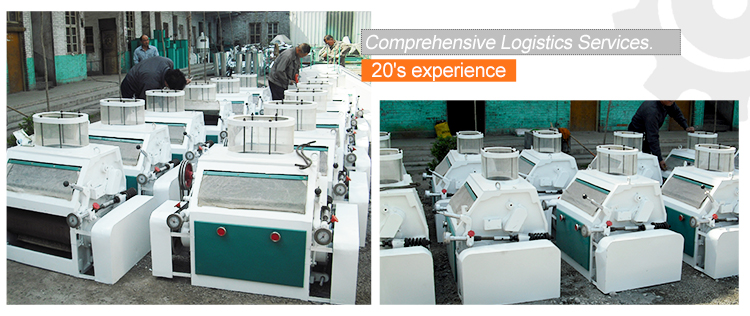 Commercial Wheat Flour Milling Unit
Separating Grain
After gristing process is completed the mixture goes through the separation process to separate the grain from the wheat. In this step, the mixture passed between the rollers at various speeds so that it separates bran the outer layer from the inner white portion.
Milling Grain for High Quality Flour
Lastly, the internal white portion of the wheat grain is then grounded with the help of a flour milling equiment. It crushes the wheat into small pieces. After crushing the mixture is passed through sifters. The process is repeated several times and the repeated crushing and sifting produce fine flour.
Get In Touch
We receive enquiries in
English, Español (Spanish), Русский язык (Russian), Français (French) and العربية (Arabic)
. Our professional team will reply to you within one business day. Please feel FREE to contact us!