Mini Corn Mill Machine for Sales
Grain milling, also known as grain processing, refers to the production activities of husking and grinding of various grains such as rice, miller, wheat, sorghum, corn/maize, soybean, and more.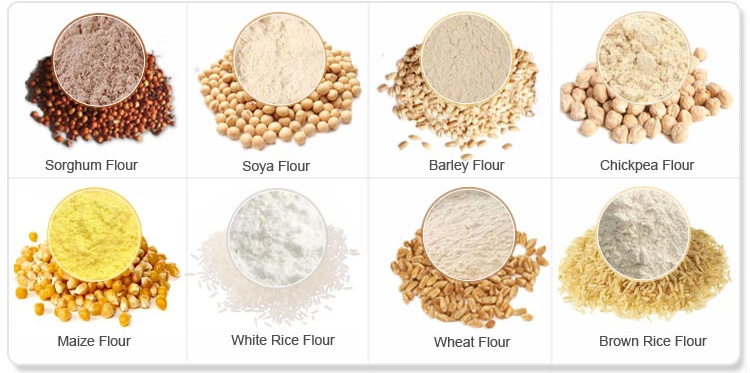 Grain Grinding Milling
ABC Machinery, as China TOP grain processing equipment manufacturer, can provide compact solutions for corn/maize milling, wheat flour production, cassava processing and other grain processing for small or large business. If there are any needs, please just tell us directly. We are professional!
BEST Selling Corn Milling Machine at Factory Price
Corn milling machine is a type of home grain grinder. It can process a very wide range of grains, including sorghum, soya, barley, chickpea, corn/maize, rice, wheat, etc. In addition, it can also process spices, like chili, pepper, anise, cinnamon, etc. (Read more: Start Small Scale Flour Milling Business >>)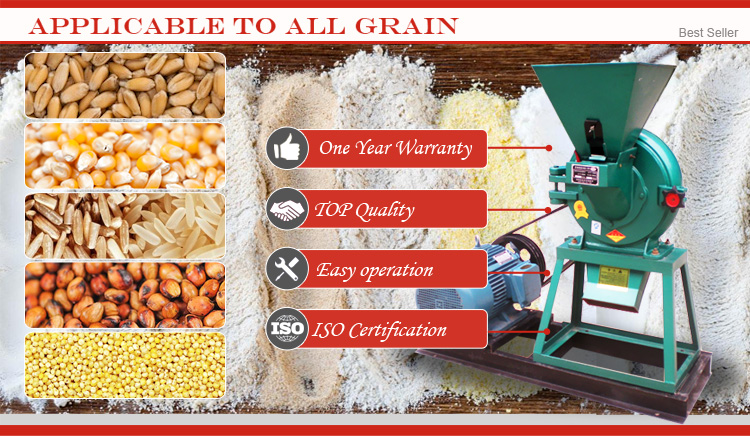 Mini Corn Milling Machine
This multi-functional mini corn milling machine has the characteristics of simple structure, easy installation, user-friendly and maintenance. It has been widely used in food factories, seasoning factories, feed mill plant and individual households and other small scale business. It won't cost too much money to buy one set of our mini corn mill machine. For detailed price, please send us your needs, then we can recommend you the most suitable model!
Buy Mini Corn Grinding Machine from ABC Machinery
| Model | Power(kw) | Output (kg/h) | Weight (kg) | Number of 20 Container |
| --- | --- | --- | --- | --- |
| M6FFC-160 | 1.5 /220v,50hz | 50-200 | 74 | 210 sets |
| M6FFC-230 | 2.2 /220v,50hz | 150-560 | 80 | 180 sets |
| M6FFC-270 | 7.5 /380v,50hz | 250-800 | 188 | 42 sets |
| M6FFC-360 | 11 /380v,50hz | 400-1800 | 280 | 24 sets |
| M6FFC-500 | 22 /380V,50hz | 1000-3000 | 720 | 6 sets |
| M6FFC-600 | 30 /380v,50hz | 1100-3200 | 800 | 6 sets |
| M6FFC-800 | 55 /380v,50hz | 2000-8000 | 1200 | 5 sets |

Our corn mill machine can be equipped with either electricity engine or diesel engine, so it more convenient to use it in different conditions.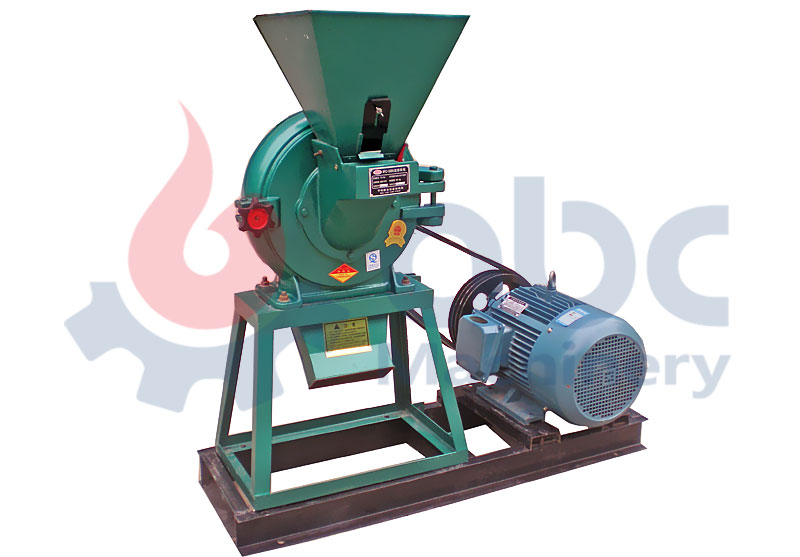 Electric Grain Grinder Machine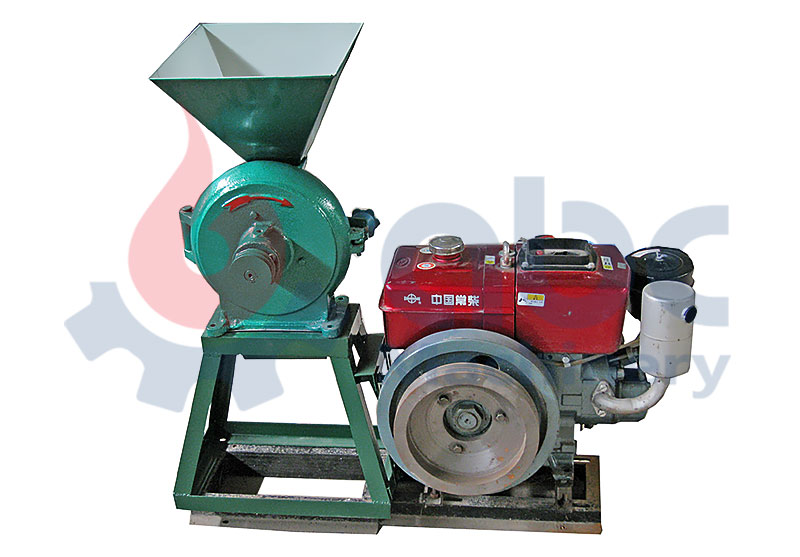 Diesel Grain Milling Machine
Working Principle of Home Grain Grinder Machine
When the grinder is started, the raw materials enter the crushing chamber from the hopper and are broken by the impact of the high-speed rotating working part, and the movement direction of the material is changed at the same time. Because the high-speed rotating working part destroys the deposition of the material layer, the material moves with the rotor. (Related post: Cost of Maize Milling Machine in Kenya >>)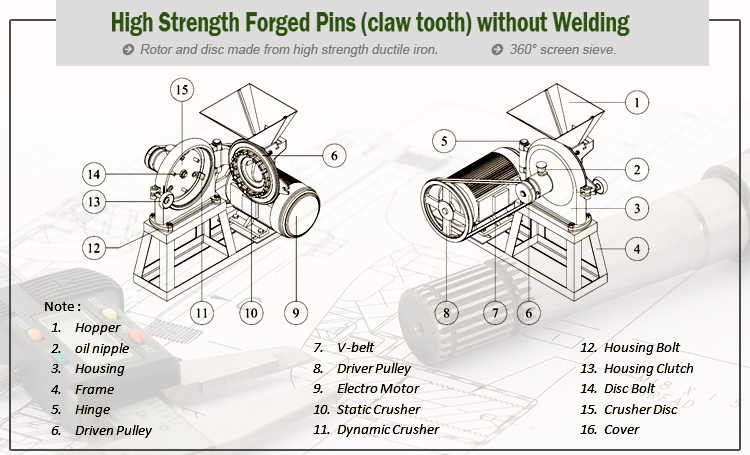 Grain Grinding Machine Structure
In this process, the particles are repeatedly subjected to the collision between the working parts and the machine body, as well as the collision and friction between particles, and are gradually crushed to the point that their geometric diameter is smaller than the diameter of the sieve hole. Under the action of centrifugal force and airflow, the crushed material leaks into the powder chamber through the sieve hole and is discharged from the outlet. (Read more: Small Scale Maize Milling Machines in South Africa>>)
Multi-functional Grain Grinder for Corn Milling
Multi-functional mini corn milling machine supplier – buy high quality grain grinder for flour making: HOT sale corn mill machine offered grain processing machinery manufacturer or supplier, guide on process of corn flour production and how to start corn milling business with limited cost in Tanzania, Egypt, Morocco, Ghana, South Korea, etc.
Reasons to Choose Our Small Grain/Corn Grinding Machine
Compact design and reasonable structure takes up small area and ensures convenient uses and maintenance
High production efficiency and low energy consumption
Sealing design prevents dust overflow and provides clean working environment
Adjustable mesh can meet more requirements
Get In Touch
We receive enquiries in
English, Español (Spanish), Русский язык (Russian), Français (French) and العربية (Arabic)
. Our professional team will reply to you within one business day. Please feel FREE to contact us!