Set Up Maize Flour Milling Plant in Kenya
Why Should Start Maize Flour Milling Plant in Kenya?
Maize is one of the profitable cereal crops that are grown in large numbers in the world. It is used in a variety of products and foods such as starch, fuel ethanol, oil, glue, etc. Its grains are ground into a fine powder form that is called maize four and is used as a food. Maize is a staple food and is called 'Queen of Cereals' because of its power to generate more crops in less time. It has a high productivity rate and is able to grow under varied environmental conditions. Its potential to yield more in less time has made it the 'Queen of Cereals' among the farmers in Kenya and other countries. (Read more: Maize Flour Machine Price >>)


Maize Flour Milling Business
As it can be yielded in large numbers in less time in Kenya, it means any business, such as maize flour milling plant, can achieve great success if started with factual planning. Another reason to set up maize flour milling machine in Kenya is it is used to make a local dish in Kenya called 'Ugali'. It is consumed by 78% people of Kenya which shows maize flour has a high demand there. A single person in Kenya consumes 5 kg of maize every month. A study shows its consumption will increase even more by 3% to 6% in a few next years. The above points show clearly that starting a maize flour milling plant in Kenya has a great potential for success. So, investing in it today can bring great treasure tomorrow. (Related Post: Maize Milling Business in Uganda >>)

Setup Maize Flour Milling Plant in Kenya
A Comprehensive Guide to Starting a Maize Flour Milling Plant in Kenya
Now that you know it is a great idea to start your own maize flour milling plant in Kenya, let's see how you can establish it properly. The success of any business highly depends on the area that you choose to establish your business in. Likewise, for maize flour milling plant setup in Kenya, the location you select is very important. It must be near the farmers from whom you will buy maize and the market in which you want to sell maize flour. (Latest Order: 10TPD Small Wheat Flour Production Line Exported to Kenya >>)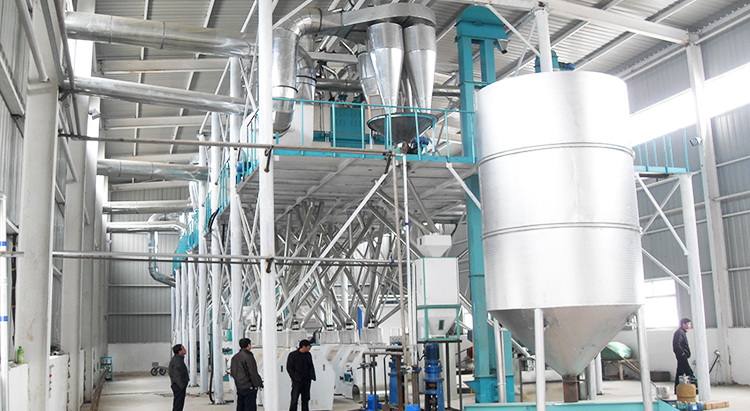 Complete Set of Maize Flour Milling Machine
If your factory is far from these sites, you will have to invest extra money in transporting your product to the market and receiving maize from its suppliers. The location should also be large enough to accommodate maize flour milling machine and store the crop and flour.


Maize Flour Milling Machine Setup
Next, determine the amount of maize flour you want to produce monthly and the amount of crop you will need to achieve your goal. On the basis of it, buy maize flour milling machines that have a high efficiency to yield flour according to your needs. Machines must be long-lasting and consume less energy. Do your research about maize milling machine manufacturers before buying the best machines available in the market.
Hire a capable workforce. They should know how to run milling plants so you get the results you expect from your maize flour milling plant. Skilled workers are easily available in Kenya, so it will not take much effort from your side.
Small Scale Maize Flour Milling Machine for Sale
The small scale maize flour milling machine provided by ABC Machinery is widely used in small flour mill plant. It is the BEST choice for small scale flour milling business since it can process a very wide range of grains into flour, including maize/corn, wheat seeds, rice, sorghum, cassava, coconut and more. (Read more: How to Start a Mini Rice Mill >>)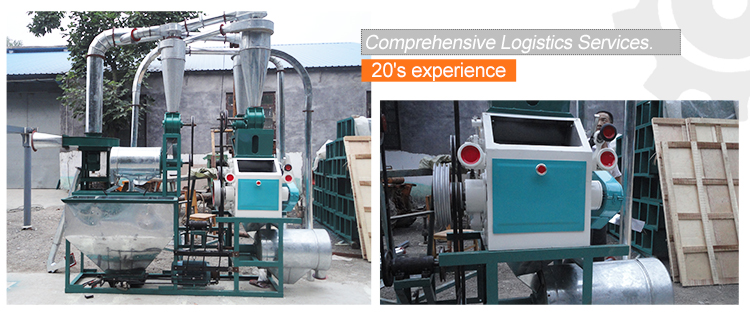 Mini Maize Flour Milling Machine for Sales
Technical Parameters of Mini/Small Maize Flour Mill Equipment
| Model | Capacity | Power | Weigth | Dimensions |
| --- | --- | --- | --- | --- |
| M6FX-35 Flour Mill | 350-400 kg/h | 11 kw | 560 kg | 3250*1500*3200 mm |
| M6FX-40 Flour Mill | 400-430 kg/h | 11 kw | 600 kg | 3250*1500*3250 mm |
| M6FX-50 Flour Mill | 400-500 kg/h | 18 kw | 810 kg | 3500*1300*3100 mm |

Small Maize Flour Milling Plant
Small Flour Mill Plant for Maize Flour Production
Set Up Maize Flour Milling Plant in Kenya – Buy High Quality Maize Flour Milling Plant for Flour Milling Business: HOT Sale maize flour milling plant in Kenya offered by maize mill machine manufacturer or supplier, guide on process of maize flour production and how to start maize flour milling business with limited cost in Kenya, Tanzania, Egypt, Morocco, Ghana, South Korea, etc.
Get In Touch
We receive enquiries in
English, Español (Spanish), Русский язык (Russian), Français (French) and العربية (Arabic)
. Our professional team will reply to you within one business day. Please feel FREE to contact us!