Buying Small Flour Processing Machine for Business
Small Flour Processing Machine in Rural Area
With the increasing of living life, people are seeking higher life level. Such as, we want additive free flour in our daily life, which is easier for the people in rural area than the people living in city. Thus, more people living rural area plan to setup flour processing machine plant as business, starting to buy flour processing equipment, but without knowing more information about flour processing machinery. Now we are going to talk about the small flour processing machine for business in rural area. (Rlated article: how to start a maize milling company)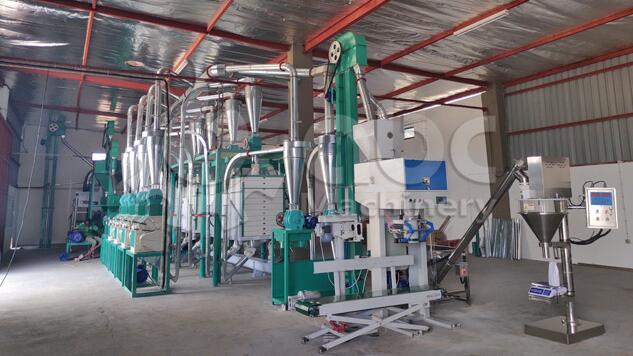 Small Scale Flour Processing Equipment
Why Setting Up Small Flour Processing Machine?
Small flour processing equipment is suitable for flour production business in rural areas. Compared to large scale flour making machines, it have many advantages. (Related article: corn flour production process)
Small scale flour milling machine covers small area, less initial investment, and the operation is more convenient, these characteristics are more suitable for rural areas for processing production.

In the small flour processing machine, the fineness can also be adjusted according to the needs, processing the flour particles coarse and fine uniformity, the use of wear-resistant alloy of vulnerable parts, the replacement cost is also low, so the whole flour production cost is low.(Read more: how much does a flour mill cost)

Although with small size, small flour processing equipment contains a complete set of equipment, including round sieve, wetting wheat and, grinding machine etc. are included. The machine is suitable for starting business with less production in rural towns, like small and medium-sized flour processing enterprises, etc.

Choose Suitable Small Flour Processing Machine for Business in Rural Area
First you need to determine the capacity for building a new flour mill, after determining the processing capacity then the search becomes narrow. Next, you can zoom in on the model's raw material compatibility, such as milling capacity, machine versatility, average price of flour mill equipment, etc. (Related article: rice mill setup cost)

Small flour milling machine design and efficiency are especially important when selecting flour mill equipment, considering the operating design, motor speed, and output, which will contribute to the cost of producing the product. A faster machine will provide more output, but actual and hidden maintenance costs should also be discussed with the flour mill equipment supplier to reduce the cost of setting up the mill. (See more: maize milling machine south africa)

If possible, you can also visit the small flour processing machine manufacturers and refer to their feedback to observe the machine in operation. A quality flour mill equipment manufacturer is one that will meet your requirements and provide you with the quality product and end result cost you need. (See more: flour mill machine for small business)

Successful Flour Milling Machine Projects Setup around the World
ABC Machinery has designed, built and serviced a large number of large and small flour processing machine plants both in China and abroad. We design the best production process for our customers, provide the most suitable equipment at the best price, and provide excellent after-sales service to escort our customers. (Read more: maize flour milling machine prices)
If you are interested in building small flour processing equipment business, please contact us for detailed price list and technical parameters.
Get In Touch
We receive enquiries in
English, Español (Spanish), Русский язык (Russian), Français (French) and العربية (Arabic)
. Our professional team will reply to you within one business day. Please feel FREE to contact us!