How To Use Small Wheat Flour Mill Plant Correctly?
Small Wheat Flour Mill Plant on Hot Sale
Small wheat flour mill is designed and manufactured with small size, simple structure, easy operation and maintenance, widely used in small wheat flour workshop, wheat flour production line in the rural area, new startups and investors to start business. And the wheat flour is an indispensable raw material in human life, which need the wheat flour machine to process. Thus small wheat flour mill plant is always on hot sale. (Related article: flour mill machine for small business)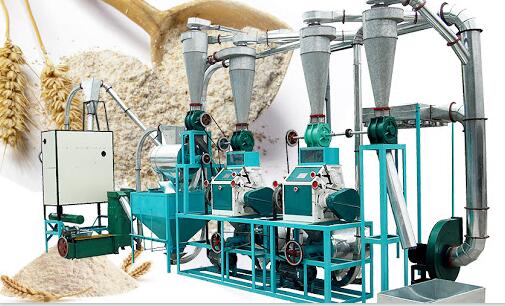 Small Scale Wheat Flour Mill Plant
Main Machinery in Small Wheat Flour Mill Plant
Cleaning step: Vibrating screen, rotary sieve classifier
Scouring step: Wheat scourer, wheat brusher
De-stone step: Grading de-stoner, air-suction specific gravity stoner, air-blast specific gravity stoner
Magnetic separation step: Magnetic selector, magnetic separation plate
Air separation step: Air separation equipment, cleaning and wheat scourer.
Wheat water conditioning step: Wheat washer, dampening
Milling step: Wheat flour mill machine, plan-sifter, purifier

Note: for flour production process, please click here.
How To Use Small Wheat Flour Mill Plant Correctly?
When the people use the wheat flour machinery more, the machinery abrasion has been the normal problems. How to use the mill equipment correctly becomes an important question, which can make the mill equipment last longer, meanwhile ensuring higher output. (Related article: cost of setting up a flour mill)
Delivered the wheat evenly to the silo. Too much will cause the air duct to be blocked and eventually reduce the output, and cause serious damage to the equipment components.
Adjust the fan appropriately according to the requirements of final produced wheat flour fineness and output to improve work efficiency. (Read more: fully automatic flour mill plant cost)

While grinding the wheat with the wheat flour milling machine, observe the wheat carefully, and strictly prohibit metal blocks from entering the wheat flour machine to avoid damaging the grinding rollers, grinding rings, and central hangers.

Lubricate the rolling bearing well. Good lubrication conditions for the rolling bearings of the transmission part can avoid serious damage and shorten the service life, so as to reduce the maintenance cost.

Some of Our Wheat Flour Mill Plant Setup around the World
We are not only offering small scale flour mill machinery, but also providing the whole flour production solution. The list above is some of our flour mill plant setup around the world, if you have any idea of building flour mill plant, welcome to contact us.
Get In Touch
We receive enquiries in
English, Español (Spanish), Русский язык (Russian), Français (French) and العربية (Arabic)
. Our professional team will reply to you within one business day. Please feel FREE to contact us!