Business Potential for Investing In A Maize Milling Plant in South Africa
Maize flour is a type of flour milled from maize as the main raw material. Maize is one of the three major staple food resources for humans, accounting for a quarter of the world's cereal production. Moreover, maize flour mainly contains protein, starch, fat, vitamins, minerals and other nutrients.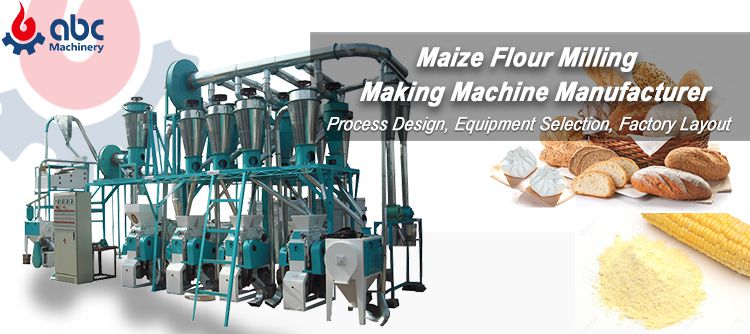 Successful Maize Milling Production Plant Business in South Africa
According to several loyal customers of ABC Machinery, we know that the demand for maize meal in the South African market is expected to show significant growth in the coming years due to increased human consumption and health awareness. As a result, an increasing number of people are planning to invest in a maize milling plant and they see starting a maize milling plant as a profitable business. If you want to learn more information of maize flour milling processing machine, investment cost, and project report, please contact us directly!

Advantages of Setting up a maize flour production business in South Africa


Maize Flour Milling Plants: A Profitable Investment
Favourable conditions for maize milling plants
Maize is one of the world's important agricultural products. Four of these countries - China, India, South Africa and parts of Brazil - have a high demand for maize. Arable land accounts for about 13% of the land area, but only 22% of the fertile land is arable. The main crop is maize and the moisture and light in South Africa are suitable for maize production.
South African maize meal producers can make additional profits by exporting maize meal in the global market. South Africa's maize meal exports are relatively competitive and its export volumes continue to increase. However, there has been no change in its domestic demand or market. More South African produced maize flour is being exported and this is gradually helping to increase the importance of South Africa in the global maize flour market.
Customers' consumption preferences
Maize is the dominant and most important grain in South Africa. South Africans use maize for a number of reasons. Not only is it a staple food, but they also use it for domestic animal feed production. South Africa is trying to increase its maize production and capture more market share.
Successful maize milling production plant project in South Africa
The most important step before setting up a maize milling plant is the selection of equipment for the maize milling machine. Buy market-priced South African maize milling production line with unique structure design, integrating peeling, grinding and flour making, it is a multi-functional machine, which can also save energy and reduce consumption. Mainly suitable for corn peeling, grinding, flour making, for township and small grain processing points, especially suitable for the majority of rural external processing users of grain processing, is the first choice of equipment for external processing.
The main features of the maize milling line
--Consists of a peeling system, a crushing system and a netting system.
--Additional functions to process crops other than millet such as rice, wheat, sorghum and beans.
--Multifunctional: cleaning, peeling, removal of maize germ, endosperm and black cob, crushing, sorting, polishing and intensive screening by means of a mesh system.
ABC Machinery is a large manufacturer of grain and oil machinery,which includes research,development,design,manufacture and installation.Excellent corn processing performance, output corn grits or flour can be accessed directly from supermarkets. For more details and prices of corn milling equipment and to get a free quote, please don't hesitate to contact us!

Video of Maize Flour Milling Production Processing in South Africa
Maize Flour Milling plant equipment to South Africa – factory price maize flour processing machines for grinding maize flour: buy maize flour milling plant from flour milling equipment manufacturer or supplier at factory price, get FREE technical instruction of maize flour milling process and business plan to set up maize flour milling plant project in Kyrgyzstan, Pakistan, Bangladesh, Uzbekistan, Saudi Arabia, etc., at low cost.
Get In Touch
We receive enquiries in
English, Español (Spanish), Русский язык (Russian), Français (French) and العربية (Arabic)
. Our professional team will reply to you within one business day. Please feel FREE to contact us!